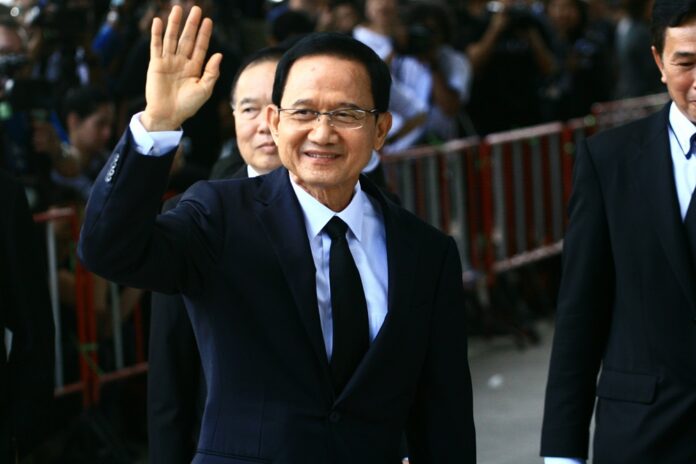 BANGKOK — The Supreme Court on Wednesday acquitted former prime minister Somchai Wongsawat of malfeasance, clearing him of allegations he overstepped his power by ordering a 2008 crackdown on anti-government protesters.
Other defendants include former PM Chavalit Yongchaiyudh, who served as deputy PM at the time, and former police commissioner Patcharawat Wongsuwan, a younger brother of the current deputy junta chief, Prawit Wongsuwan.
Speaking after the court was adjourned, Somchai said he felt happy to know "justice still exists."
"It made me confident that the judiciary institution is still an institution that the people can rely on," Somchai told reporters. "I'd like to thank everyone who traveled here to show me support."
Read: Fates of 2 Former PMs Hinge on August Verdicts
Somchai was charged with malfeasance by the national anti-graft agency for ordering police on Oct. 7, 2008, to clear protesters from the entrance to parliament as part of an anti-government campaign.
In its ruling, the court said the government was required by the constitution to address the parliament that day, but anti-government protesters' blockade around the building prevented it from from doing so.
The court said the protesters not only intentionally besieged the parliament but went as far as using weapons such as slingshots and wooden sticks to fight the police; therefore, their actions were not peaceful as allowed by the law.
The court also ruled the government could not possibly have known there would be fatalities when it ordered the police operation.
The court took first took up in February 2015 the National Anti-Corruption Commission case against Somchai and his subordinates. The defendants insisted they acted within the law.
Somchai is a brother-in-law of Thaksin Shinawatra, an influential former leader who retains much sway over his political clan despite being ousted in a 2006 military coup. Somchai himself was later removed from office by a court order that dissolved his political party in late 2008, to the cheers of anti-government protesters at the time.
Word of the verdict sent spasms of anger through the crowd of Yellowshirt protesters gathered outside the court today.
"Why is the murderer not in jail? Where is justice?" someone shouted.
Veera Somkwamkid, who was among the leaders of the 2008 Yellowshirt protests, expressed disappointment.
"People who were judged to be guilty might be innocent, and people who were judged to be innocent might be guilty," Veera told reporters. "I respect the justice system, but is this really justice? That's another issue."
The trial has been closely watched as it could offer a precedent-setting prosecution of a prime minister for actions taken while in office, and also as a bellwether for a parallel court case against Yingluck Shinawatra, another former premier allied – and related – to Thaksin.
Yingluck, who is Thaksin's younger sister, is accused of negligence for allegedly failing to stop massive corruption in her government's rice subsidy program.
Yingluck faces up to 10 years in prison if convicted. A verdict is due in her case Aug. 25.
Related stories:
Asking for Justice, Yingluck Tells Court She is Victim of 'Political Game'
Fates of 2 Former PMs Hinge on August Verdicts