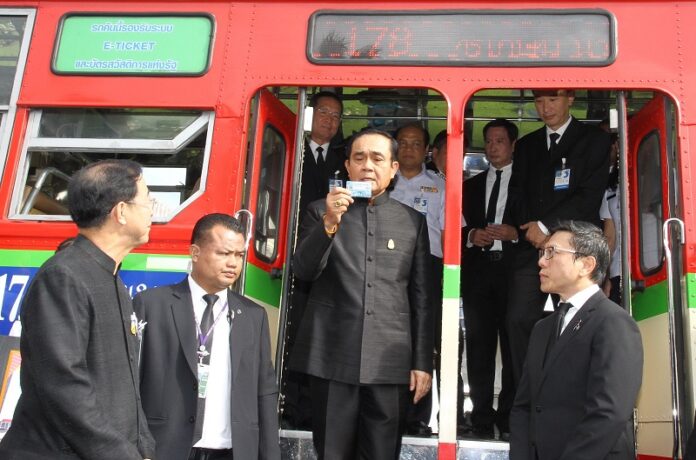 BANGKOK — Bangkok's low-income residents received their version of junta welfare cards Tuesday just as the Finance Ministry said it might increase their shopping credit to 800 baht.
Speaking Monday, a day before the last batch of cards were to be distributed, Permanent Secretary Somchai Sujjapongse said the cash limit for welfare cardholders to purchase necessary goods might be raised from 200 baht or 300 baht to 700 baht or 800 baht per month, depending on annual income.
The move came after many cardholders complained they have little use for other card benefits such as 500 baht for train tickets and 500 baht for interprovincial bus fares. People in Bangkok and six nearby provinces were offered 500 baht for Bangkok's buses and BTS Skytrain, whether they used them or not.
"It is possible to increase the cash credit by moving funds from other benefits that people rarely use to this instead," Somchai said.
The change would mean more money for groceries, school supplies and agricultural goods. Somchai insisted the change would not increase the government welfare project's budget of 40 billion baht.
It was possibly the first time residents in Bangkok and the central region received benefits later than those living elsewhere. People in outlying provinces obtained their cards at the beginning of October, while low-income residents of Bangkok and the six nearby provinces – Nonthaburi, Pathum Thani, Ayutthaya, Samut Prakan, Nakhon Pathom and Samut Sakhon – just obtained them today.
Authorities cited the card's technology as a cause for the delay. The will be embedded with the same chip used on the forthcoming Mangmoom unified transportation cards, meaning they will be usable on Bangkok bus, BTS and MRT systems
Prime Minister Prayuth Chan-ocha today took a test ride on a Bangkok bus using one of the welfare cards that will go to 550,000 capital residents. Though when they are ready for use in November, they will be limited to 800 buses on which card readers have been installed. At the same time, the military government will end long-running free bus and train services that many depended on.
Related stories:
Poorest Thais to Get 2,750 Baht Cash Cards
700,000 Ineligible for Junta Welfare Program
Confusion Over Benefits as Poorest Thais Register for Junta Welfare
Final Extension of Free Bus And Train Service?
Stricter Junta Welfare Program Unclear on Benefits