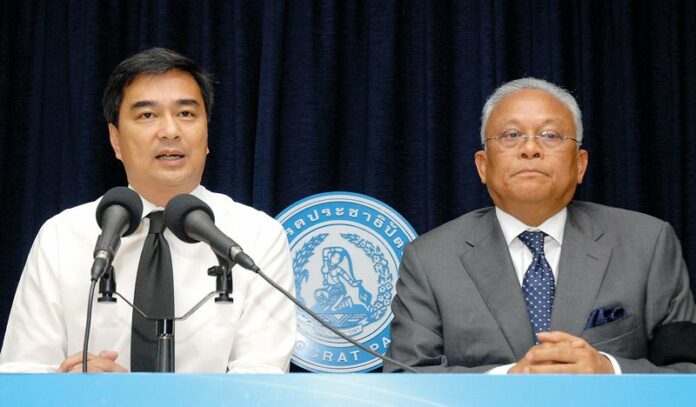 Update: Suthep Says He's Done With Politics, Puts Kibosh on Rumors
BANGKOK — The Democrat Party said Monday it is taking a wait-and-see approach to news one of its former executives is planning to set up a pro-junta party to contest the next election.
Just four days before registration opens for new parties, Democrat Party chairman Abhisit Vejjajiva and his aides said they have to see how Suthep Thaugsuban, whose role as a firebrand protest leader helped pave way for the 2014 coup, will act before they come up with a response.
This includes whether the Democrats will join with Suthep and vote for junta chairman Prayuth Chan-ocha to continue as prime minister, Abhisit said Monday.
"Ultimately it's up to the election results and the party's [decisions]," Abhisit said.
Read: Suthep Endorses Constitutional Loophole to Keep Prayuth in Power
Suthep served as deputy prime minister under Abhisit from 2008 to 2011.
Suthep has reportedly been on the verge of announcing his political party for several days. It would see a fissure in the party he served more than 30 years as a member. Media reports have said other Democrats might defect to Suthep's party, which will publicly support Gen. Prayuth's bid to remain in power. Suthep "retired" from politics following the 2014 coup and receded from public view, only to return a year later to call for ongoing military rule.
Democrat spokesman Ramet Rattanachaweng said he had no comment as to how Suthep's party would affect the election, which was slated to take place in November but now seems postponed to early 2019.
"I have to wait for him to set up a party first," Ramet said Monday. "Let that day come first, and we'll talk about it."
Another key Democrat, Thepthai Senpong, has a similar response.
"I still can't analyze anything. Let him set up the party first, then I'll analyze it," Thepthai said.
Former Democrat MP Nipit Intarasombat sounded more confident. While he acknowledged some Democrat MPs might defect to Suthep's faction, he believes the majority will stay, especially in the south where the party – and Suthep – has its power base.
"I don't know about other regions, but for the south, I asked them often. Everyone has expressed their intent to stay. They won't go to any other party," Nipit said. "I talk to them every two weeks!"
Political activities of all kind remains banned under the junta, including political party meetings and fundraising campaigns. Under those conditions, discussion of forging parties and alliances takes place out of public view.
Prayuth said Friday he wants to sit down with all political parties to discuss when the election should take place.
But observers will have a chance to see the fruit of whatever political intrigue has been at work on Friday, when those hoping to run in the next election are set to register their party names with the Election Commission.
Registration will start at 7:30am, and names will be granted on a first-come, first-served basis, acting Election Commissioner Somchai Srisutthiyakorn said Monday.
Related stories: 
Division? What Division? PCAD and Democrats Deny Schism