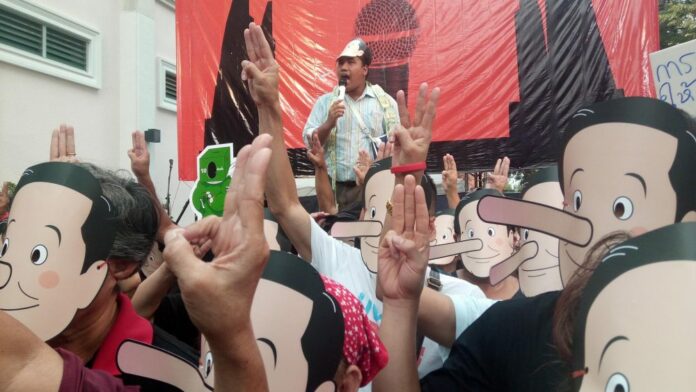 BANGKOK — A junta spokesman on Thursday urged pro-democracy activists to stop mocking regime leader Prayuth Chan-ocha with their Pinocchio masks.
Maj. Gen. Piyapong Klinpan, who also commands a special prison where government opponents are routinely detained, said the junta leader is a person deserving respect, or puu yai, who should not be lampooned with such caricatures.
"I'd like to warn the demonstrators about what's appropriate," Piyapong said. "The prime minister is a puu yai of this country. They should not assume things and use a cartoon to mock him like what happened last week."
On Saturday a group of protesters donned the masks of Pinocchio, the fictional puppet character whose nose gets longer every time he lies, to call Prayuth a liar for repeatedly promising election dates only to postpone them later.
---
Election Vow Highlights:
Election Will Take Place in October 2015 at Earliest
Post-Coup Election May Be Delayed To 2016
'There Will Definitely be an Election' in 2017, Prayuth Promises
Junta Promises Election in 2017, For Real This Time
No Elections For Thailand This Year, NLA Says
No Really, There Will Be Elections This Year, Prawit Says
Asserting 'Thailand First,' Prayuth Says Elections Up to Him
---
The activists called the masks, which resemble the junta chairman, "Yuth-nocchio."
Activist leader Rangsiman Rome rejected Piyapong's call on the ground that Prayuth is a public figure who's liable for criticism and mockery.
"Anyone can be subject of mockery, as long as it doesn't escalate into bullying or hate speech," Rangsiman said. "Secondly, it's normal for public figures to be mocked. He's a prime minister. He should understand this."

The activist continued, "I don't give any value to anyone who said Prayuth should be spared because he is a puu yai. Even elected politicians were mocked too."
Rangsiman and other leaders call for a weekly protest to demand an election by November as Prayuth promised last year. The junta leader has since claimed he never made such promise – despite having done so through a news conference attended by dozens of reporters – and postponed the election to February 2019.
Saturday's protest will go ahead as usual, and the venue will be announced at a later date, Rangsiman said.