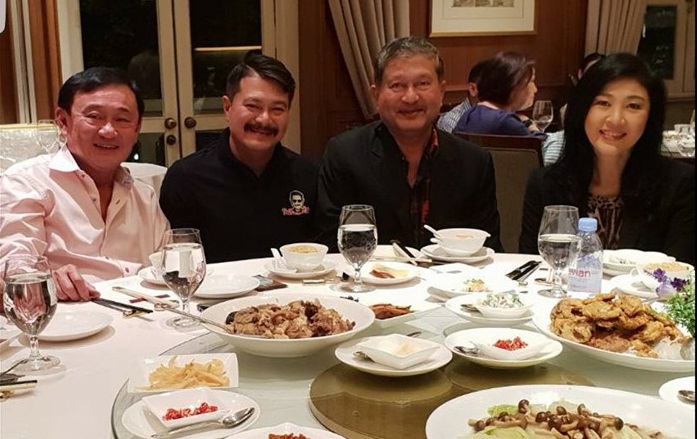 BANGKOK — Former prime minister Thaksin Shinawatra's political clan has been disbanded and reincarnated multiple times, from Thai Rak Thai to People's Power to Pheu Thai. Now, it could be dissolved yet again.
An Election Commission secretary general warned Monday that members of Pheu Thai who reportedly flew to visit the fugitive former leader in Singapore could bring about the disbandment of their party, citing a constitutional clause.
"Meeting him is not illegal," Charungwit Phumma said in an interview. "But it could violate the law that bans outsiders from interfering with or dominating a political party. You must look at Section 28."
"The party could be disbanded," he added.
Section 28 of law on Political Parties prohibits them from "consenting" to any interference from someone uninvolved directly. The maximum penalty is the offending parties' disbandment.
Media reports say a number of Pheu Thai politicians including former minister Chalerm Yubamrung flew to the city state Saturday to meet Thaksin, who was ousted in a 2006 coup and convicted of corruption in absentia two years later.
Pheu Thai spokeswoman Sunisa Divakorndamrong defended the visits.
"He knows a lot of people, so it's natural that people that know him would travel to see him," Sunisa said, adding that she hadn't gone herself.
Sunisa also slammed Charungwit's warning and said the Election Commission should have paid more attention to junta chairman Prayuth Chan-ocha, who's on an official visit Buriram and Surin provinces. Critics accuse Prayuth of making the trips to curry favor with local political factions for the upcoming election.
"He's traveling there to pour on funds in exchange for political deals," the spokeswoman said. "This is something more serious."
Thaksin and his sister, former prime minister Yingluck Shinawatra, arrived in Singapore on Thursday to attend a conference on cryptocurrency, according to a source.
Charungwit said he wasn't singling out Pheu Thai Party.
"I'd like the media to remind every party that there are many new laws enacted for the next election. They should study the laws clearly," he said. "Otherwise it could become a problem and they will enter an election with legal flaws."