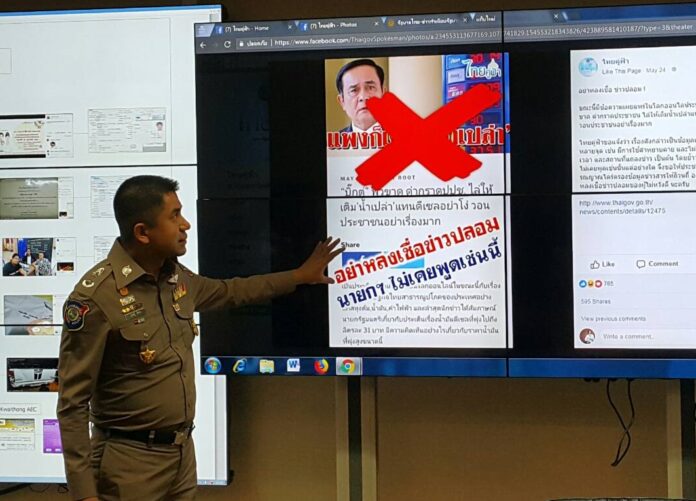 BANGKOK — Six people were charged with cybercrimes for disseminating spoof news about junta chairman Prayuth Chan-ocha, police said Thursday.
The suspects confessed to sharing a piece – in which Prayuth was quoted as telling people to fill up their cars with water instead of expensive gasoline – though they maintained being unaware the news was not real, an officer in charge of the investigation said. Police are also seeking a Cambodian man accused of running the hoax news site.
"They admitted to sharing it," Lt. Col. Atilak Wangsiriworakul of the Technology Crime Suppression Division said in an interview. "We will take their testimony into consideration."
Hoax News: How This One Weird Trick Leaves Media Fuming
The three men and three women met with police yesterday to acknowledge the charge laid against them. They're accused of violating the Computer Crime Act, which forbids importing "false information" to a computer system.
All suspects were released on the same day, Atilak said.
The article they reportedly shared was first posted on Ratstat.com, a website which routinely publishes fake news articles. One of them claimed ROV, a popular mobile phone game, is about to be banned for causing numerous cases of epilepsy.
In a May 23 post, published at the height of public discontent to the soaring gasoline price, the site quoted Prayuth saying motorists who complained should "stop being stupid" and simply fill up their tanks with water.
The post, which remained on the site as of Thursday afternoon, quickly circulated on social media before a government spokesman said the junta chief never made such remark. Police soon launched an investigation.
At a Wednesday news conference, investigators identified Cambodian national Ratanak Heng as the site admin. Atilak said an arrest warrant has been issued for Ratanak Heng and that police would seek his extradition from Cambodia.
"Our officers are now in Cambodia," Atilak said. "We are working on it."
Since the May 2014 coup, authorities have taken swift legal action against satirists and hoax news websites that defame the ruling junta.
In January, a history professor was charged with cybercrimes after he suggested Prayuth's wife was carrying a brand name purse. The government said the purse was locally produced.
In 2015, soldiers abducted eight people and later charged them with violating the Computer Crime Act for running a Facebook page that mocked the junta chairman. They spent several weeks in prison before being released on bail.