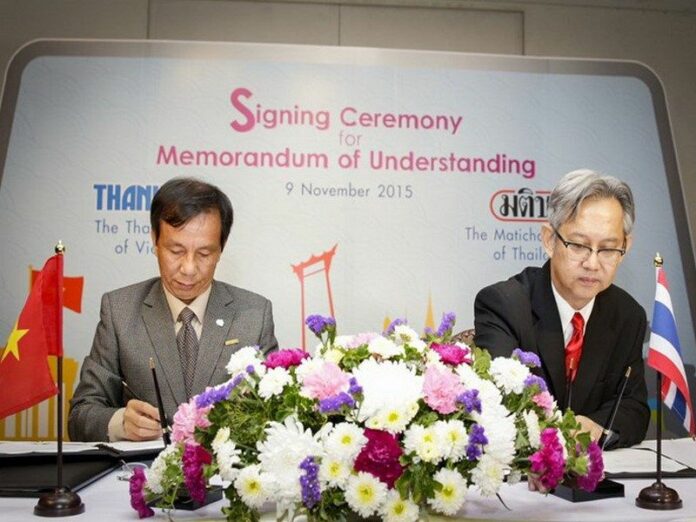 By Lam Yen, Thanh Nien News
BANGKOK — Thanh Nien Newspaper signed a bilateral cooperation agreement with Thailand's Matichon newspaper Monday in Bangkok, marking the first partnership between a Vietnamese and a foreign media agency in both content and business management.
The newspapers, as leading media outlets in each country, want to prepare to tap the demand for business news content by local readers ahead of the formation of the ASEAN economic community. The cooperation thus covers three main issues: Sharing copyright on economic news, sharing the benefits from added-value advertisement, and co-organizing communication events in the region.
The cooperation comes from major efforts by Mr. Supachai Verapuchong, deputy general director of Thailand's leading pharmaceutical cooperation Thai Nakorn Patana, to connect the newspapers. Mr. Patana is also an investor of a medicine production factory in Vietnam and has accompanied Thanh Nien Newspaper in many community activities.
Vietnamese news agencies have been engaging in publication cooperation with foreign agencies only in the form of buying and selling news packages. In this new agreement, Thanh Nien and Matichon have all the rights to republish each other's economic news.
Beside, when a local business puts an advertisement on Thanh Nien, it only has to pay a small extra sum to run that ad on Matichon in Thai language, and vice verse, Thai businesses who want to advertise on Matichon only have to pay a supporting fee to put their ad in Thanh Nien in Vietnamese.
The method will create broader coverage for a business' advertisement at a low cost.
Thanh Nien and Matichon will also cooperate to organize conferences on various topics such as tourism, education and training, new technologies and agriculture technologies to draw attention from the science and business communities, which hopefully will help with the development of the newspapers as well.
Thakoon Boonparn, Managing Director of Matichon, said at the signing ceremony: "There's hardly anyone who can understand the cultural and economic issues of a country as well as the experts living there. So why don't we use that advantage for mutual benefits?"
"The biggest meaning of the cooperation between the newspapers is not about the economic value, but it is about the story of how information can be shared regarding the potentials and demands of cooperation between businesses and people of the two countries in the age of ASEAN integration," said Nguyen Quang Thong, Thanh Nien editor-in-chief.
Matichon was launched in 1978 and operated at the beginning as a left-wing news agency supporting students' revolutions, including those against the US military bases in Thailand at the time. As being loyal to its motto: "Media quality for a national prosperity," the newspaper has grown into a publication with the daily circulation of around 250,000 papers, serving mainly business and educated readers.
The newspaper now belongs to Matichon Group, which owns three of the most prestigious and influential daily newspapers in Thailand, the others being Khaosod and Prachachat Business. The group also produces a weekly magazine on Thai culture and history, a weekly magazine of vocational training for farmers, Matichon Online and television content.
News releases are submitted for consideration by third parties and Khaosod English is not responsible for their content. To reach us, please contact by e-mail at: [email protected].