Although Siem Reap is not a very large town, booking a convenient hostel in Siem Reap, Cambodia is still recommended for every backpacking visitor. Its popularity as the site of Angkor Wat has meant that it's grown over the years, and today resembles an international town of foreign travelers and visitors from all over the world.
This has, of course, meant that the number of hotels, restaurants, bars, stores and other businesses serving the tourism trade have multiplied as well. This has meant that some of the cheaper accommodations to be found in Siem Reap are being pushed towards the outskirts of town.
While these hostels in Siem Reap, Cambodia may be quieter, they are certainly not convenient for getting around town and enjoying the sights and attractions of the town.
Getting around Siem Reap
The cheapest (and most eco-friendly) way to get around the town of Siem Reap, is to rent a bicycle. You'll encounter many bicycle rental shops along Wat Bo Road and Old Market Road. These shops rent bikes, including a helmet and bike lock, for between 1$ and 3$ per day. Mountain bikes cost up to 10$.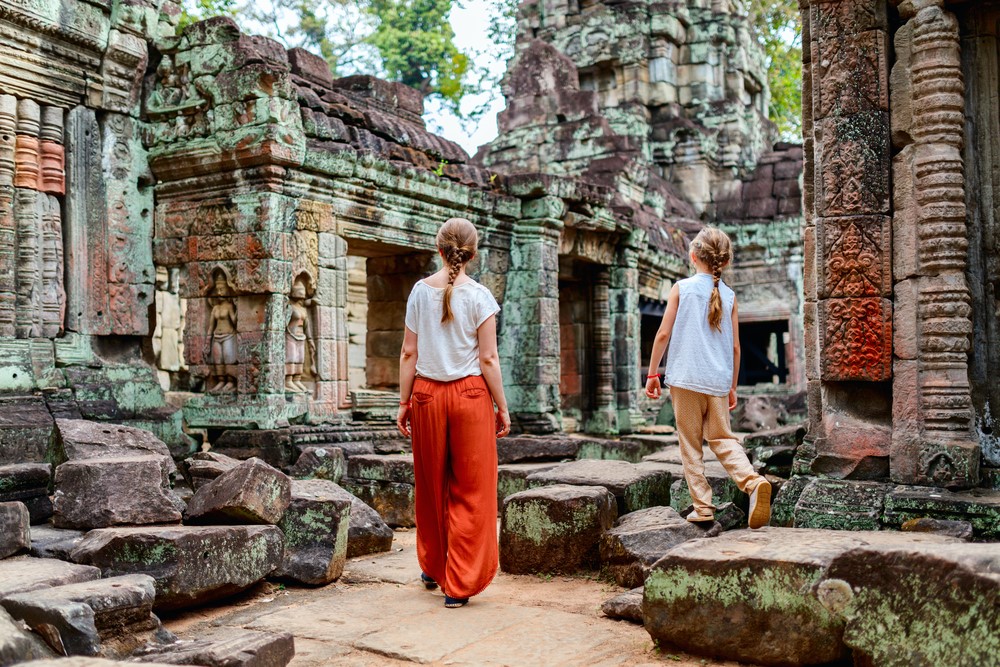 You can also rent a bike from a non-profit organization in Siem Reap called The White Bicycles. This organization rents bikes to hotels, guesthouses and hostels in the area and they charge 2$ per day, but the profits all go towards funding education for local children and clean water projects in town.
A 'moto', is what they call a motorbike taxi in Siem Reap. They are the second-cheapest form of transport around town. They generally cost about 1$ per ride to destinations in town and more when visiting Angkor Archeological Park, or traveling in or out to the airport.
The moto drivers generally don't speak much English, so it's good to have a name card in Khmer of your destination for them to read.
The local tuk-tuk is called a 'remork'. They are the third-cheapest way to get around town and out to see the ruins of Angor Wat, Angkor Tom and the other sites around Siam Reap. They can be a bargain if you're traveling with a group, as they can hold up to four passengers, but they're less so if you're traveling by yourself.
When renting either a moto, a remork, or a car taxi, always agree on the fare before embarking on the ride.
Staying in the Heart of the Action
Booking a hostel in Siem Reap, Cambodia that's nearer the center of town will give you more options in the transportation you're offered, as well as more variety of restaurants and bars to choose within walking distance.
Being closer to the town center also provides better convenience in terms of ATMs, convenience stores, telecom shops, laundries and the other necessities of life as a traveler. The center of Siem Reap is more interesting visually as well. With picturesque alleys and little side streets, you're apt to find yourself exploring the town as much you explore the archeological treasures just outside of town.