Few artists from Thailand have made it big in the international scene. One of those is Flim, a techno DJ whose signature style of abstract, dissonant beat-making has earned him praise in the international techno community and brought him a long way from high school cover bands.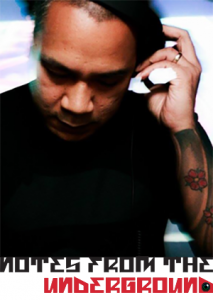 Since the late '90s, when Dittaphat "Flim" Janprasert left his native Hat Yai and found work in Koh Samui's legendary Gecko Bar where he honed his mixing skills under owner and label boss Gary Gecko, he's gone on to make a name for himself as an in-demand talent in North America. He's headlined venues such as Toronto's System Sound Bar and the Piknic Electronik in Montreal.
The road that's Flim, now 34, from Songkhla to Samui to Toronto returns to Bangkok on Thursday when he and label mates HDRX and Montonn Jira touch down at Ce La Vie to showcase their latest work.
Beforehand, I talked to Flim about that long road to success abroad and his label Maetta, which boasts 32 releases in its catalog.
He said a pivotal point in his career came after the millennium's turn, when he moved to Toronto with his then-wife and started a family. Flim decided to permanently set up shop in Toronto and got work as a chef while DJing at weekend freetekno and squat parties.
"Let's be honest at that time, DJing didn't really pay the bills," he says, laughing. "I just wanted to express myself in the arts, and I think music and cooking are the same thing."
He reminisces fondly about the underground party scene of that time.
"We would break into abandoned warehouses and set up so that the cops would have a hard time spotting us," he said. "We only got caught once."
In 2010 Flim released his first record, "Killing It." on esteemed techno label Mutate To Survive. The EP earned Flim praise from the likes of French techno pioneer The Hacker for its blending of minimal techno and tribal grooves. Following its success, he set up his own label. And in 2012 his label Maetta ("Empathy," in Thai) was born. This year Flim aims to find fresh talent from Thailand to add to his label's roster.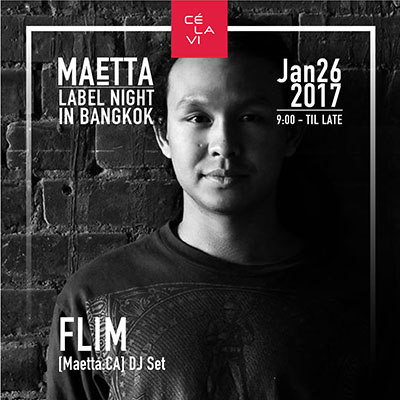 "I think to make it on an international level, Thai artists shouldn't follow the rest of the world. We can do it ourselves, and we have a good scene, me and my label manager will be looking for producers here that can bang out a good track, so we are going to support that person to have regular releases with them on our label."
The label has also organized a remix and mixtape competition. The winner of the remix will have her track released on Flim's Maetta label and the mixtape winner would be able to study at SAE Institute's Electronic Music Production program. The winner will be announced on March 9, 2017.
Maetta Label Night will take place at Ce La Vie and will feature Flim, HDRX, Montonn Jira. The event will also be supported by locals Etil and Kont3k5t supplying the visuals.
Doors open at 9pm for 400 baht entry, including one drink.
Until next time, Dub be good to you.