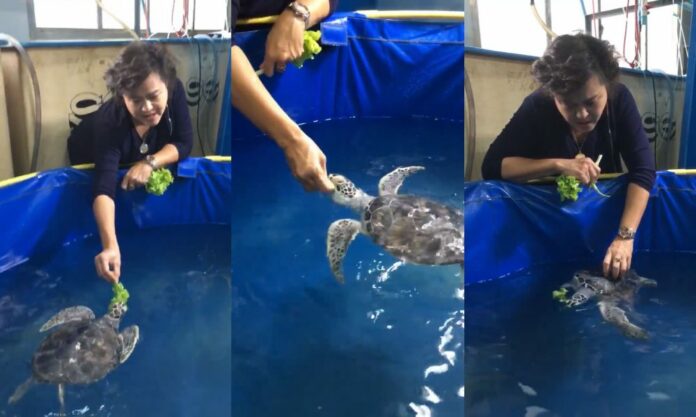 BANGKOK — Marine experts at Chulalongkorn University said Tuesday that they were rehabilitating a green sea turtle that had grown ill after living in captivity.
The young female green sea turtle – named Paley because of the discoloration in her skin and shell – was handed over to the care of Chulalongkorn University after its owner kept it in a freshwater pond where the animal had grown ill, said Natarika Chansue, a veterinarian at Chulalongkorn University.
"She's pale because she doesn't get sunlight and was kept in freshwater," Nantarika said by phone Tuesday. "The owner bought her illegally."
Nantarika posted two videos of Paley on her Facebook page in which she introduced the reptile to the world.
Unaware that Paley was a sea turtle, the owner had kept her in a freshwater pond and decided to hand her over to the authorities when she started weakening.
Keeping protected animals such as the green sea turtle in captivity without permission is illegal in Thailand, a crime punishable by up to a 30,000 baht fine or three years in jail – or both. The owner, who authorities did not identify, was not charged. Nantarika said she would work with the Department of Marine and Coastal Resources to rehabilitate Paley.
While the animal is eating better than before, Nantarika says "her blood and skin are still not strong enough" and that "her recovery could take months."
Nantarika and her team is training Paley to be less familiar with humans and to dive for food in saltwater to survive in the ocean.
"Paley shows us that it's possible to train turtles be returned to the ocean. Before, she wanted humans to scratch her back often, but now she can show us she doesn't like it," Nantarika says in the video, as the turtle splashes away from her hand.
Nantarika ends her post with a plea for people to stop bringing exotic marine animals into captivity.
"This is one more life that was brought to become part of humans' lives, but soon she will go back to living her own life," Nantarika said as she fed Paley lettuce.
Earlier this year, Nantarika operated on Piggy Bank, an older female green sea turtle who survived an operation that removed almost a thousand coins from her stomach in March, but later died from surgical complications.
Related stories:
Turtley Crowded: Temple Promises More Space for Reptile Residents (Photos)
Turtle Watch: Coins Found Inside Two of Piggy Bank's Friends (Photos)
Piggy Bank's Turtle Friends to be Checked for Coins
Nation Mourns Piggy Bank, Takes Hard Look At Self
Piggy Bank, Giant Sea Turtle Who Ate Too Many Coins, 25
Now Empty of Coins, 'Piggy Bank' in Terminal Decline
Chula Vets Divest Turtle's Stomach of 915 Coins (Photos)
'Piggy Bank' Ate Too Many Coins. Now Chula Vets are Trying to Save Her