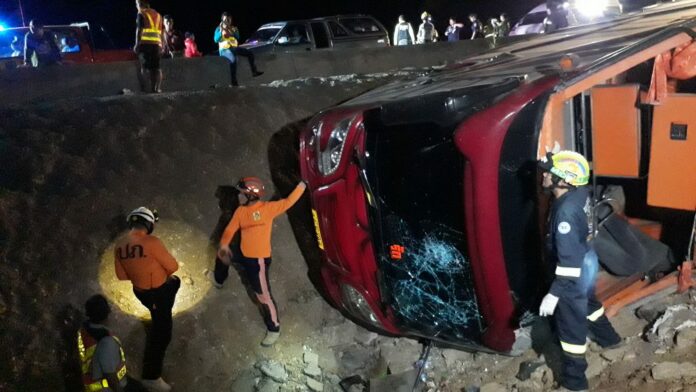 TAK — At least six foreign laborers died when a bus left a mountain road early Monday morning in the northeastern province of Tak.
The bus carrying 50 Myanmar workers fell from a raised road and overturned, killing at least six passengers and injuring several others. Police believe it was speeding at over twice the speed limit.
Bus driver Pisit Thanapakpasit, 40, told police he was driving from Tak's border district of Mae Sot to Chachoengsao province east of Bangkok. The vehicle was descending the Diu Ruak Mountain, Pisit said, when he lost control.
The bus was registered early last year, according to Capt. Kiattisak Boonplong. However, the GPS showed that at the time of the accident the bus was speeding at 75kph, which is over the 30kph limit for large vehicles.
No one has yet been charged, Kiattisak said Monday morning. Families of the dead would receive insurance compensation of 700,000 baht per victim.
The incident comes less than two weeks after 20 migrant workers burned to death when another bus carrying 50 passengers went up in flames in the same province. The bus was operating without authorization to travel between provinces; investigators have yet to conclude the cause of the fire.
Related stories:
Bus in Accident That Killed 20 Operated Without Permit