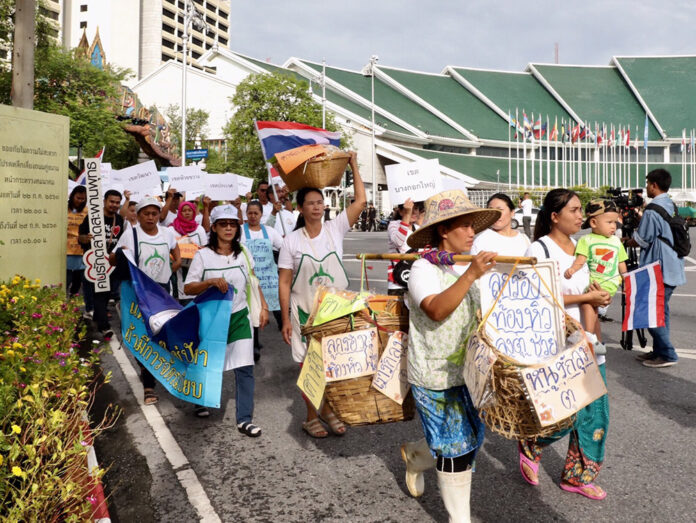 BANGKOK — Top city officials said they will continue to clear vendors from the capital's sidewalks despite a groundswell of opposition from Bangkok vendors.
After frustrated sellers marched to demand the policy be rolled back and closed areas allowed to reopen, the provincial governor and his deputy said they will advance the campaign to new areas, including Chinatown.
Read: Street Wars: Bangkok Vendors Strike Back
"City Hall's policy has made clear that vendors can not come back to areas that have already been regulated," said Deputy Gov. Sakoltee Phattiyakul, who's been tasked with leading the effort.
Marching on the Government House, vendors Tuesday complained that the city destroyed livelihoods with a heavy-handed approach that offered no satisfactory compensation. Sakoltee said efforts have been made to find new spots for those evicted, especially from the Asok and Memorial Bridge areas, with possible results by next week.
Over the years, as the city forced vendors from places they had long hawked their wares, it typically offered alternative spaces the vendors said were impractical and distant.
Gov. Aswin Kwanmuang also backed the policy, saying that though he felt sorry for thousands of impacted vendors, he also felt bad for millions of pedestrians unable to use space intended for them.
Vendors from throughout the city rose up this week after those on Khaosan Road recently won concessions by fighting the changes.
As for the ongoing dispute over selling there, Sakoltee said district administrators have already designated spaces for selling on the sidewalks and is registering those who would like to sell. He said those violating the rules will be banned and prosecuted.
His confidence doesn't match the description of vendor representative Yada Pornpetrumpa. A day before Sakoltee's comments, she said the zoning attempt had failed as there was not enough space for all vendors. A top local administrator on Thursday confirmed that the issue hasn't been resolved.
"It's a dispute between vendors and building owners," said Apichart Saenmanot, head of the Phra Nakorn district's code compliance officers. "If we just have vendors put their stalls up [on the sidewalks], it also wouldn't be fair to the owners. They don't want their shops blocked."
"We're trying to negotiate and find a way to compromise to make progress, but now both vendors and building owners won't back down and only care about their own interests," he added.
Apichart said the new ban on daytime sales will still be enforced. Yada, who has been questioning the rationale behind this rule, said Tuesday that she might tell the vendors to ignore it next week and erect their stalls during the day.
On Wednesday, Sakoltee also said City Hall is examining ways to regulate vendors in Chinatown, another busy marketplace which was exempted from the policy a year ago.
Meanwhile, Bangkok compliance officials say they are searching to regulate more areas where vendors have troubled traffic, blocked pedestrians or made things "messy and unsanitary."
Related stories:
Khaosan Future Remains in Limbo
Defeated, City Hall Again Agrees to Exempt Khaosan
Deal Struck For Khaosan Vendors to Submit Alternate Rules
Khaosan Goes Quiet After Police Ignore New City Rules
Khaosan Vendors to Defy City Hall's New Rules
Feeling Spurned, Khaosan Sellers to March on City Hall
Police the Cops Before 'Choking Us,' Khaosan Vendors Say