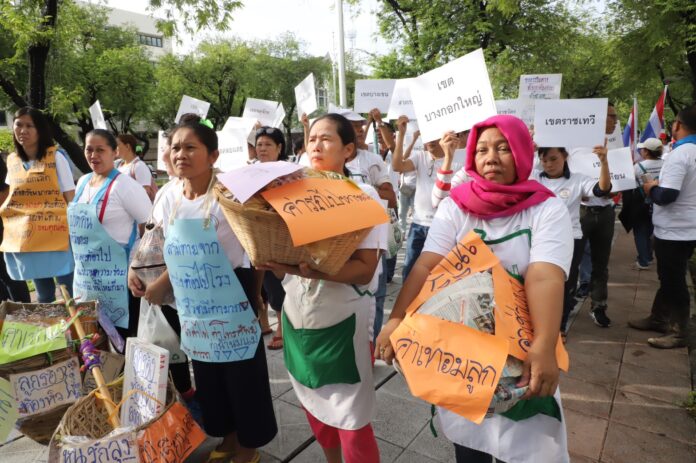 BANGKOK — Hundreds of vendors from throughout Bangkok marched Tuesday on the Government House to demand City Hall roll back years of regulations responsible for shutting down their street markets.
About 300 protesters this morning delivered to the military government's seat of power a petition blaming metropolitan administrators for damaging their livelihoods with reckless policies and regulations in the first coordinated effort since the city's campaign began in 2014.
"We wanted to petition the prime minister directly. Since stalls were banned [on sidewalks] we've been trying to negotiate with several City Hall agencies in the past two years, but no progress has been made," said Pongsin Leein, vice president of Bangkok vendors network.
Pongsin said their petition was received by government representatives who promised a response from the prime minister within 30 days.
The campaign to clear the streets of informal markets and reclaim the city's sidewalks started after the military seized the power in 2014. Over the years, it has seen several once bustling street markets shut down, including popular sites such as those at Pak Khlong Talad, Khlong Thom and Saphan Lek.
Pongsin said no satisfactory compensation has ever been offered to those affected. The court of public opinion has been split between those who see a loss of Bangkok's chaotic charm and those for whom it is an overdue reckoning.
Tuesday's action was the first time the vendors came together as one. Isolated resistance has been put up through the years, only to be put down by a determined City Hall response.
Bangkok officials were forced to blink last month when a bid to clear vendors from the sidewalks of Khaosan Road, who a year earlier had been promised exemption, met stiff opposition. The city mostly backed down with a promise to make good on the exemption.
Today, vendors representing many Bangkok districts demanded the ban on sidewalk sales be revoked in all places, for both old and new cases. Instead they want long-term rules devised and a seat at the policy-making table. They said they would welcome the new regulations so long as they're allowed to sell from the sidewalk.
Raywat Chobtham, president of the association, said a meeting has been promised within the month with relevant agencies to find solutions together.
He has said City Hall has been thoughtless and hasty each time it pushed enforcement of the policy, forcing vendors out and hurting their lives without proper support or compensation.
The latest crackdown saw the world-famous Khaosan Road first targeted in July. Although officials eventually said vendors would be allowed to sell on the sidewalks, they would no longer be able to sell during the day once the official exemption comes into effect.
Yada Pornpetrumpa, president of the Khaosan Road Vendors Association, said district officials failed to set designated zones for stalls on the sidewalks Monday when they could not find enough space for all the vendors. She said she would notify City Hall of the problem today.
She added that the main conflict over the daytime ban remains unsettled after meeting with local officials about two weeks ago. She said they've heard nothing about their own proposal to self-regulate sales from the ministries who agreed to hear them out last month.
"I'm going to wait for a while longer to see whether we'll be able to negotiate," Yada said. "If nothing happens, I'll have the vendors set up their stalls during the day starting next week."
Related stories:
Khaosan Future Remains in Limbo
Defeated, City Hall Again Agrees to Exempt Khaosan
Deal Struck For Khaosan Vendors to Submit Alternate Rules
Khaosan Goes Quiet After Police Ignore New City Rules
Khaosan Vendors to Defy City Hall's New Rules
Feeling Spurned, Khaosan Sellers to March on City Hall
Police the Cops Before 'Choking Us,' Khaosan Vendors Say