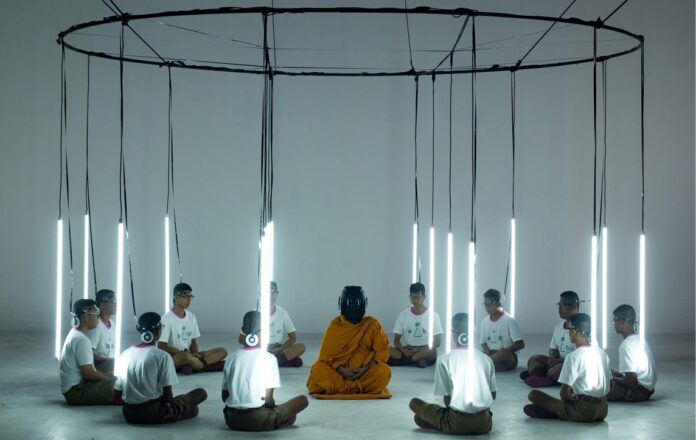 BANGKOK — A Thai movie which speculates about the future of the country in the next decade was approved by the censor board Monday and will screen at cinemas nationwide next week.
The crew behind "10 Years Thailand" released its official trailer Tuesday, one day after the thought-provoking film passed the state censors rated for audiences over 13.
The 95-minute film is an anthology made by four Thai filmmakers – Aditya Assarat, Wisit Sasanatieng, Chulayarnon Siriphol and the internationally known Apichatpong Weerasethakul – who each offer a speculative episode about how Thailand will look in a decade.
The first episode is Aditya's "Sunset," shot in black and white. It shows soldiers visiting an art gallery to make sure there is nothing exhibited that causes conflict. At the same time, an army van driver wants to speak to the gallery's cleaning lady.
Wisit offers his "Catopia," circling around the last human who lives in a world dominated by cats.
Chulayarnnon presents "Planetarium," which explores a world in which The New Youth crews are trained to bring in citizens who do not follow the country's rules to undergo special treatment to correct their mistakes.
Cannes winner Apichatpong returns to his hometown Khon Kaen when he tells a story through "Song of the City," where the town is under the watchful eyes of Field Marshal Sarit Thanarat's statue. People's pastime is to reminisce about the past and talk about new plans.
Selected to screen at the Cannes Film Festival in May, "10 Years Thailand" will premiere at cinemas nationwide Dec. 13. The film will screen with English subtitles.
In Bangkok, it will show at SF Cinema and Major Cineplex theaters, House RCA and Bangkok Screening Room. Outside the capital it will go to Pathum Thani, Phuket, Nakhon Ratchasima, Chiang Mai, Khon Kaen, Chonburi, Udon Thani and Maha Sarakham.
The movie is a Thai spinoff of "Ten Years" (2015), a dystopian film that speculates about the future of Hong Kong under mainland Chinese rule in 2025.