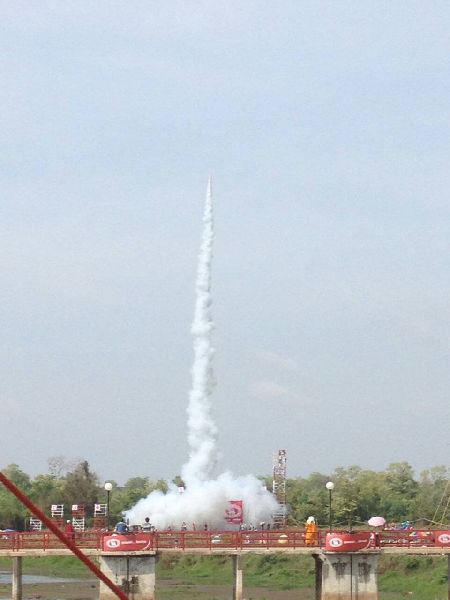 YASOTHON — A residence in Yasothon province has been severely damaged by a stray rocket that was launched during a nearby traditional rain-seeking ceremony.
More than 10 missiles, called Bang Fai, were launched in the ceremony in accordance with the folk belief that rockets must be fired into the sky to request rain from the Gods for each year's rainy season.
One of the four metre long rocks landed on a residence in Moo 1 of Ban Kwang village, approximately three kilometres away from its launch site at Phaya Thaan Park in Meang district.
The missile slammed into the side of the house, creating a 50-centimetre long hole in the concrete wall and damaging a number of furniture pieces inside.
The owner of the house, Somboon Proptrai, 54, said no one was at home at the time of the incident. She said she was visiting a neighbor when the missile struck, and ran back to her residence as soon as she heard the news. No one was injured by the missile, she added.
"Fortunately no fire was started inside my house," Ms. Somboon said.
The ceremony was halted when Ms. Somboon informed its organisers about the crash. A total of 30 traditional rockets were supposed to be launched today.
Officials at Yasothon District Office, which organised the ceremony, said an insurance company will compensate Ms. Somboon for the damages. The incident is under investigation, officials said.
The launching of Bang Fai rockets have led to several injuries and fatalities in the past.
CORRECTION: The original article reported that the rocket created a 50-metre long hole in the house's wall. It should have said 50-centimetre.
For comments, or corrections to this article please contact: [email protected]
You can also find Khaosod English on Twitter and Facebook
http://twitter.com/KhaosodEnglish
http://www.facebook.com/KhaosodEnglish