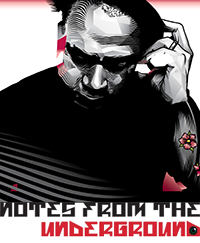 Dope-beats producer Danny Scrilla says reggae, dub and sound system culture inspired him to make his signature style of laid back, dubwize beats.
A native of Munich, Germany, Daniel Pirkl, or Danny Scrilla, started in the early 2000s as a DJ for local sound system "Rise and Shine." Since those days, Scrilla's musical style has changed from skankin' reggae riddims to bass-bin-shattering electronic beats. His work has been releases on labels such as Civil Music and Om Unit's mighty Cosmic Bridge imprint.
Since his switch in 2012, many of his fans have labelled his beats as "half-tempo" Drum 'n Bass. Scrilla though, sees it differently.
"I genuinely have very little knowledge about the genre," he said, adding that he would never associate with something he isn't familiar with.
And while he's earned props with his own releases, it's his remixes that have cemented his reputation as a force to be reckoned with. Take for example Sir Spyro's grime anthem "Toppa Top," where he flipped the script by giving it some uptempo "bashment" treatment. And who could forget Scrilla's legendary take on Kromestar's "Mere Sher," where he stayed true to the track's original elements but beefed up the beats, bass and bpm.
Next week, Scrilla touches down in Bangkok to drop beats at PhatFunk, the city's longest-running Drum 'n Bass event. The event will also be supported by your humble scribe and DJ A/K/A Sounds from Singapore.
But before the DJ drops his bag of unreleased tracks and remixes, he took time out to have a quick chat about his influences, collaborating with dubstep legend Kromestar and German bass music.
Mongkorn Timkul: You were into dub and roots reggae before Drum 'n Bass. Were you making that style of music before? And how does reggae and dub music give you ideas and inspiration to make the music that you produce nowadays?
Danny Scrilla: I was DJing reggae and dancehall as a member of a local sound system here in Germany for about seven years before I switched styles. I never really produced any reggae or dancehall really, apart from maybe a few shoddy remixes and mashups. But I would say the music I'm currently making is massively influenced by those genres. For me it's simply sound system music. It's supposed to be played on big systems for it to make sense.
MT: I would describe your music as half-tempo Drum 'n Bass. Do you see yourself as a producer that comes from, and is a part of, the Drum 'n Bass scene?
DS: Not at all to be honest. It's not because I don't like Drum 'n Bass, but I genuinely have very little knowledge about the genre and would never claim to be part of something I'm not familiar with or grew up with. There are obviously similarities, for example the bpm range and certain production techniques, but I never considered my music to be Drum 'n Bass.
MT: Germany is famous for techno. What's the bass music / Drum 'n Bass scene like there? Is it big compared to techno?
DS: Techno and house are the dominant club sound in Germany. There is a healthy Drum 'n Bass scene in my hometown Munich though, (shout-out to Sustain!) As far as bass music goes, there are a lot of people trying to get the ball rolling, but most nights are fairly small and there is not that much of a scene. It's mostly people feeling passionate about this sort of music and trying to introduce more people to it. It's a slow process but I also feel that the small scene that we have is constantly growing.
MT: Who are some producers and labels from Germany that you like?
DS: Producers from Germany you should check out: Top Shotta, Schlachthofbronx, Depth Range, Ski Mask and Kabuki.
MT: I think the "Mere Sher" remix is my favorite of yours. How did that remix come about? Have you and kromestar known each other for a long time?
DS: The "Mere Sher" remix was a bit of a product of chance really. I was on Skype with Kromestar and randomly found a horn sample that sounded very similar to his horns on the original. I just flipped the melody a little bit, we both got hyped and he asked me to remix the tune.
I think me and "Kromey" first met in 2013 at a Cosmic Bridge label night in London. That was just a brief encounter though. We only started making music together in 2016 if I remember correctly. He's got an extremely creative mind and is one of the most talented guys out there for me.
MT: What new projects have you got planned for the rest of 2018 and 2019?
DS: As far as releases go, I'm not entirely sure how much I can reveal, but there are going to be a couple of tracks on compilations out this year. After my Asia tour I want to get back to the studio asap to make more music and potentially start working on an album.
I took a bit of a break from playing shows abroad for personal reasons, but I really want to get back into playing more shows outside of Germany again so if you're reading this, go hassle your local promoter!

PhatFunk ft. Danny Scrilla & DJ Dragon runs 10pm through 2am on Aug. 4 at De Commune, on the first floor of Liberty Plaza. Tickets are 200 baht and can be purchased at the door. There'll be free flow Singha beer from 9pm to 11pm. The venue is a short taxi ride from BTS Thong Lo.