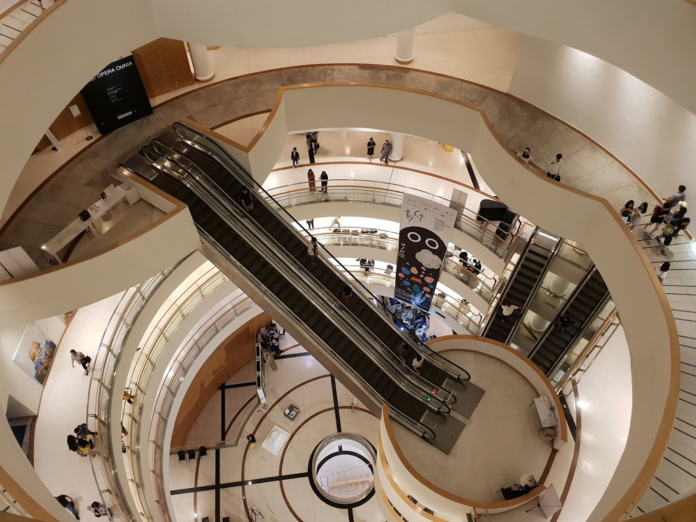 BANGKOK — The director of a popular downtown public arts venue said City Hall has made good on its vow to defund the Bangkok Art and Cultural Centre, or BACC, by refusing to pay its utilities.
Director Pawit Mahasarinand said at a Wednesday news conference that the Bangkok Metropolitan Administration, which earlier this year tried turning the decade-old venue into a coworking space, is no longer paying the center's electricity and water bills, which have come due.
"I don't want to cause drama," Pawit said, holding up a utility termination notice. "But this was sent to us this morning. So if you are going to go to the bathroom, you better hurry."
Read: City to 'Investigate' Management of BACC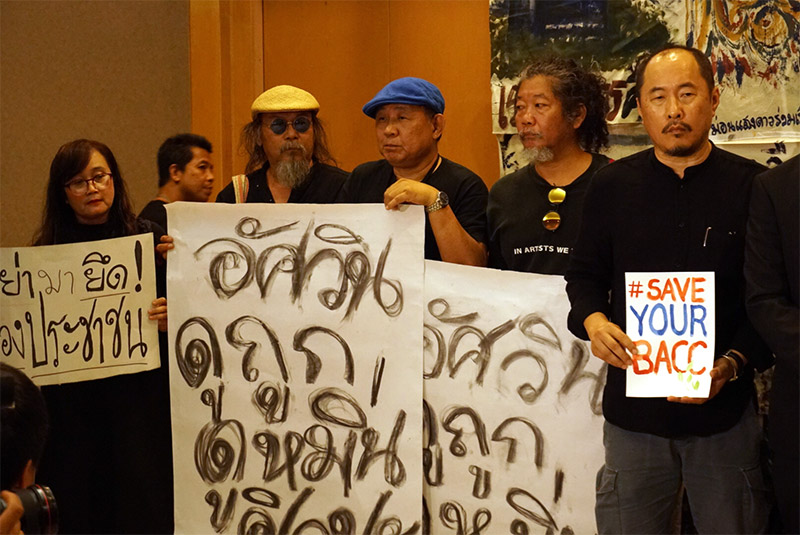 Pawit said City Hall's Office of Culture, Sports and Tourism stopped paying the facility's utility bills in July, not long after they backed down under public pressure from its bid to take over the arts center.
Today it owes 47,783 baht for two months' worth of water. Pawit said monthly expenses for utilities alone amount to roughly 20,000 for water and 600,000 for electricity.
As a cost-saving measure, the venue may shave an hour off both ends of its opening and closing times.
"At this current rate of funding, the BACC can only be open until the middle of next year," Pawit said.
At the last minute, a former deputy government instrumental to founding the BACC who now works in the prime minister's office arrived with news. Puttipong Punnikanta said junta leader and prime minister Prayuth Chan-ocha would intervene.
"He said he understands the problem of the artist network and will find a way to fix it," Puttipong said. "At first I didn't think he would send me, but he urged me to come quickly. I have a personal connection to this place, since I was here since putting down the first brick."
Though no city representatives were present, Bangkok Gov. Aswin Kwanmuang weighed in via a message posted online to reiterate that the city would not take over and the rationale for defunding it.
"The issue of managing the BACC ended months ago, as we listened to the public. Today, I reiterate that the city will not manage BACC affairs," he wrote, blaming bureaucratic considerations for why it could not be subsidized by the government.
He detailed three times BACC funding was rejected by the interim assembly, once because of concerns it may not be legal.
"If the BACC wants to be subsidized by the city, then they have to proceed according to the law," the governor wrote.
In May, Aswin proposed turning the arts and culture venue into a coworking space. He said the city would to take over its management because it was expensive to maintain, and would turn it into a coworking space to better serve the public.
Officials have denied a political motive, though as the most visible publicly supported arts venue, the BACC gives space to a broad range of perspectives, including some unlikely to please often-irascible authorities.
The city abandoned its takeover plan under intense public backlash but then cut off financial support by effectively reducing its budget to zero.
"I am managing this place, but I can't speak for anyone if they have a hidden agenda about what they want to turn this place into," Pawit said, later adding, "Back when we had an elected government, the city approved funding, but now, it doesn't."
Pawit said he has asked the tourism ministry to help find funding for next year and appealed for public donations to keep it open.
The center enjoys strong support from an influential demographic of Bangkok's bourgeoisie, who Pawit appealed to for support.
"This place is built on your taxes. So if you don't come visit, excuse me, you're being dumb," Pawit said. "I will make it so that even the motorcycle taxi drivers wanna walk in here."
While the center's contract with the city to use prime land at Pathumwan intersection expires in 2021, it's ability to remain operational until then remains up in the air.
Related stories:
City to 'Investigate' Management of BACC
City Hall Won't Take Over BACC – Won't Fund it Either
Famed Artists Say No to City Hall Takeover of BACC
City Hall Signals Retreat on BACC Takeover Plan
The City Actually Wants to Turn BACC Into a 'Coworking Space'
Take Risks, Include More: New Bangkok Art Center Head
Meet Bangkok's New Governor: Aswin Kwanmuang
Caravaggio Exhibit Ignites Baroque Bangkok Drama