All photos: Brady Weeks
The funk was bone-deep last week when Tuxedo touched down to perform the final show of their Asia tour in Bangkok.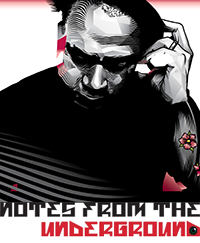 After hearing from local DJs, Gramaphone Children and Cyndi Seui, the lights went down at SRP5 Studio in Ramkhamhaeng and out came Grammy-nominated vocalist and frontman Mayer Hawthorne followed by keyboardist Jake One. Decked out in black tuxedos (of course) the duo along with their band (minus drummer) began an hourlong set with the groovy "Fux with the Tux," a track from their second album "Tuxedo II."
Hawthorne sang, danced and grooved while occasionally hyping up the crowd to sing along to a set of tracks from their first and second albums. All the while, Jake One played melodies on keyboard and sang chorus.
The beats were groovy and the bass line funky and transitions between songs were performed creatively and kept the crowd dancing without pause. Some fans did say that without a live drummer the tracks and transition sounded a bit too clean and lacked oomph.
The show was organized by Bangkok party promoters Mighty1 (the folks who brought you Onra and DJ Sarasa).
It all ended with the crowd cheering for another encore. Hawthorne and co stepped back on stage for one last number performing Hawthorne's track "Henny and Ginger Ale," while the band's roadie-as-butler served drinks on a silver platter to the band.
While some folks at the concert said that they were not too familiar with Tuxedo's music, many punters there were big fans of Mayer Hawthorne and Jake One.
Hawthorne's neo-soul musical style has been the font for four critically acclaimed albums. For his part, Jake One has supplied artists such as Snoop Dogg, 50 Cent and De La Soul with his dope beats.
Tuxedo was a side project that came to be when the two met in 2005. Trading mix tapes, they discovered a shared love for '80s funk and R&B.
The two eventually collaborated and made some demos together, uploading three tracks as Tuxedo to Soundcloud.
Available as a free download, the tracks earned praise from fans and caught the attention of Stones Throw head honcho Peanut Butter Wolf who would sign them to his label. In 2015, the duo released their first album "Tuxedo."
Their debut album earned praise for recreating the synth driven funk and R&B that was made popular in the '80s by bands like Zapp and Roger, Shalamar and Cameo.