BANGKOK — Bunthom Pittana stopped in front of a 7-Eleven near Soi Thonglor 9 late Wednesday night for dinner. Instead of strolling into the convenience store, the motorcycle taxi operator walked to the food cart parked just in front.
"We all will just die in three months," answered the man wearing a No. 4 orange moto taxi vest when asked how he will get by after Songkran, once the street food is gone.
While Thonglor and Ekkamai are one of Bangkok's best areas for eating and drinking among the well-heeled, it is ironically difficult for the low-paid workers who staff its hotels, restaurants and bars to find anything they can afford to eat.
Vanishing Bangkok: What is the Capital Being Remade Into, And For Whom?
"Well they have just a small salary, and they usually don't have much time. They buy and rush back to work," said Wannika Siripat of the majority of her customers as she gave change to a man in a 7-Eleven uniform.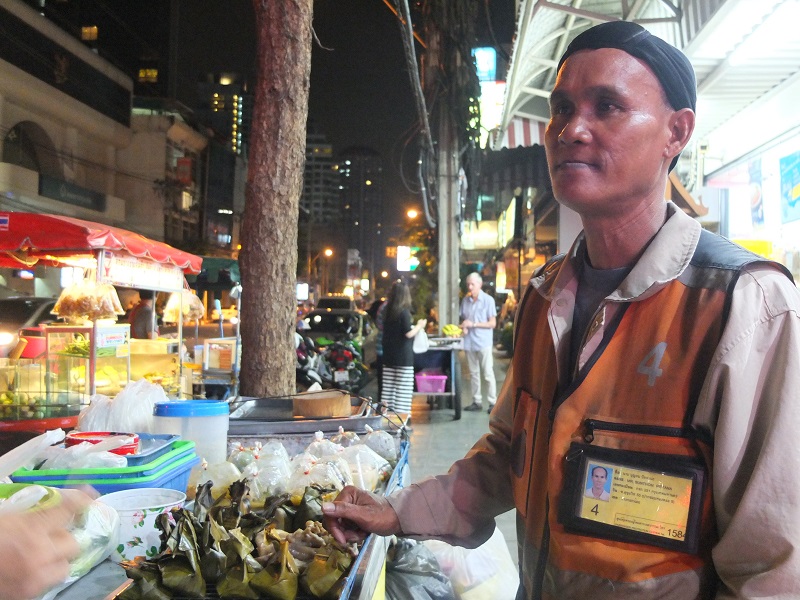 When Songkran squirts its last, so will the street vendors along Soi Sukhumvit 55, aka Thonglor, and Soi Sukhumvit 63, known as Ekkamai, who were ordered to be gone by April 17. Wannika's husband, who legally pays 600 baht per month for the spot, along with another 29 vendors, were reminded again of that deadline when they were called in for a meeting last week.
They will join the many vendors in popular street market locations who in recent years have lost permission to make a living in areas City Hall has targeted to reclaim public space.
Bunthom was only one of Wannika's loyal customers. From her small cart, she sells ready-to-eat Thai dishes, from chicken curry to steamed fish cakes, in small bags for 20 baht to 30 baht near Soi Thonglor 9.
The fortysomething woman and her husband say they've befriended many of the customers – masseuses, hotel staff and others – who have relied on them for meals.
"When they are gone, we will have to go to 7-Eleven," said another motorcycle taxi rider who was drinking free water from Wannika's red bucket – a usual complimentary drink offered by the street vendors.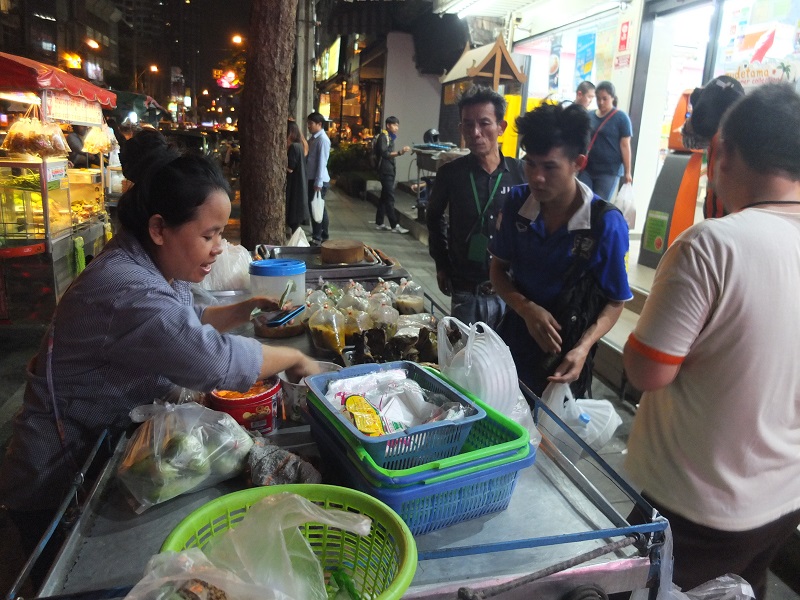 Looming Deadline
Though large sidewalk notices posted through the area indicate a June 1 deadline, Watthana's district chief said the deadline was moved up to the end of the traditional New Year holidays, something vendors were informed of late last year.
Every vendor interviewed last night said they've long known their days were numbered.
It follows an October order which banned street shops from Sukhumvit Road last year and is part of a broader city campaign to clear informal vendors from the street.
"The banners were probably made before we settled on the date," District Chief Boontham Huiprasert said Monday, saying that it shouldn't surprise anyone as 350 vendors attended a Dec. 21 meeting where they were told of the April 17 deadline.
Dropping by to grab a quick meal Wednesday night, Bunthom said it won't only be people like him who will suffer – but the street itself.
"There will be no people strolling around here anymore," he said. "Just like Silom, there will be only mangy dogs."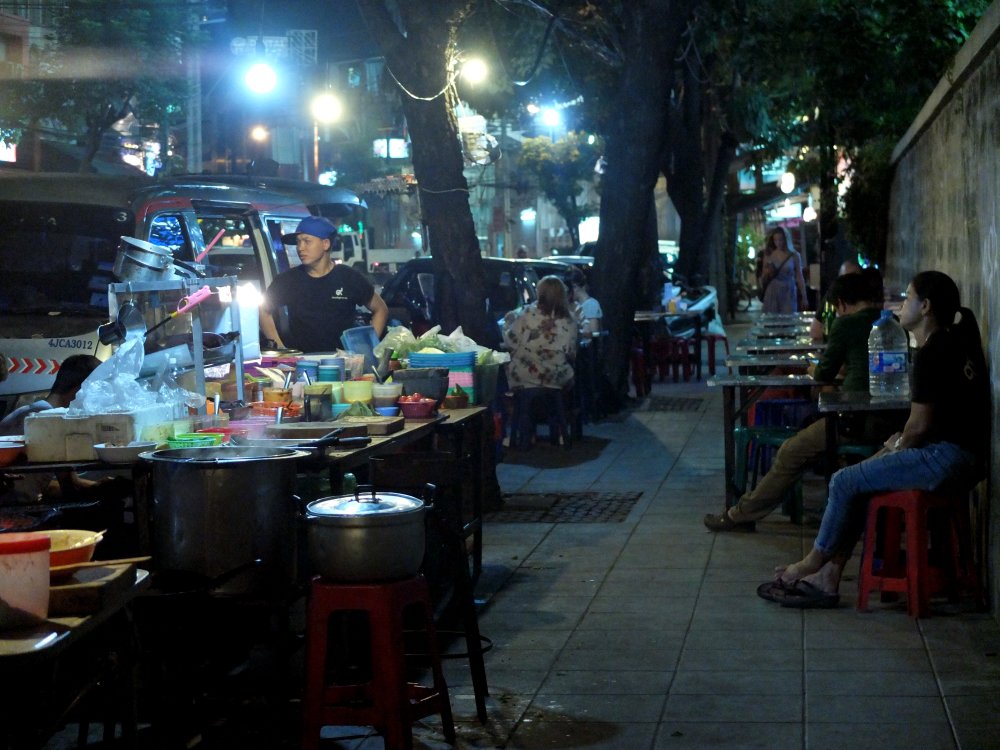 Wiggle Room
But not all street vendors are operating small push carts. While a grilled pork ball vendor rides around on his motorcycle, Isaan food stalls set up tables on the sidewalk, forcing pedestrians to squeeze between through a narrow lane cut between the tables.
To regulate all of them equally, Watthana District Chief Boontham Huiprasert said push-cart vendors will still be tolerated, as will those who set up on the sidewalk entirely under awnings or facades of private buildings.
"We have yet to restrict those in the small lanes," he said Monday. "Those vendors who have a cart can still move around."
"Or if they can find a place to set up their shop without obstructing the sidewalk, such as behind the railing of the Thonglor Police Station or some other private building, that would be okay too," he said.
The district chief said his office has worked to find new places for vendors, such as the Liberty Plaza Building at the northern end of Thonglor just before Phetchaburi Road.
Trying to regulate all manner of vendors fairly is a challenging policy.
Wannika said pushing a cart around is an impractical solution for her.
"It would make sense if I sold ice-cream," she said. "But I sell cooked food. I need a specific parking spot where my customers know they will find me when they come."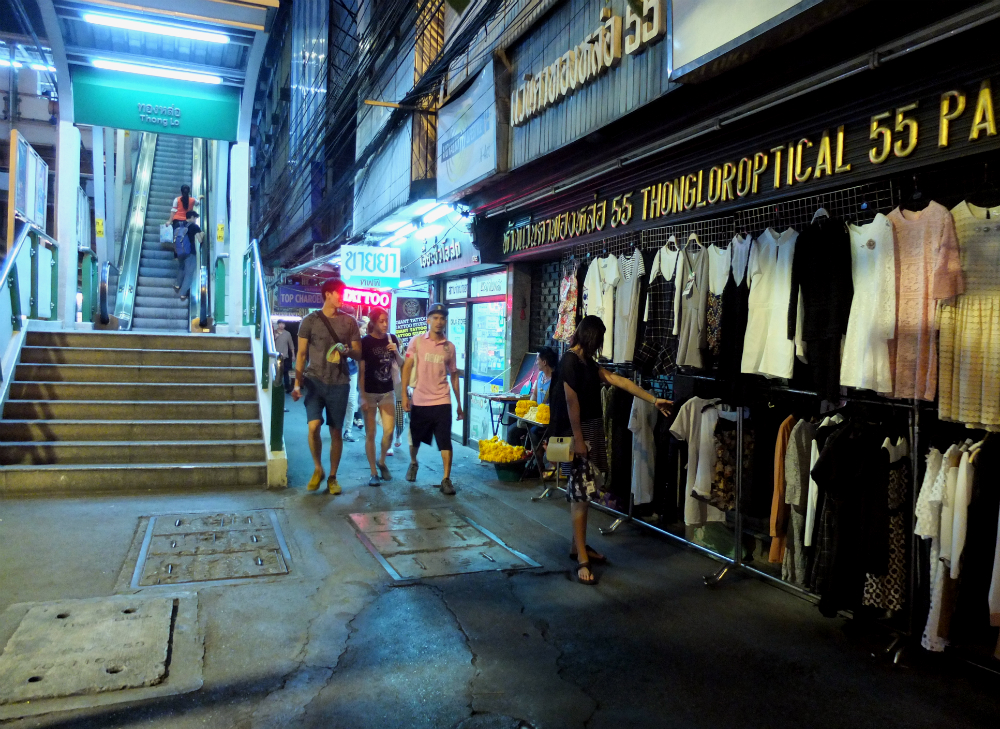 But for an apparel seller who normally lays out her wares next to an escalator up to BTS Thong Lo, the exceptions provided a means to stay.
The vendor, who said she was uncomfortable being named in a news report, said she paid the owner of a building to erect a railing for her clothes just under a very narrow overhanging roof.
"As long as I sell under their roof, I can stay," she said.
More than street restaurants, Thonglor's sidewalks face greater challenges to public use. City Hall has yet to announce measures to address the busted-up pavement, piles of garbage and swarming motorbikes found there Wednesday night.
"If you ask me, you know I am biased," Wannika the food vendor said about the policy, laughing. "Everyone has a reason for themselves."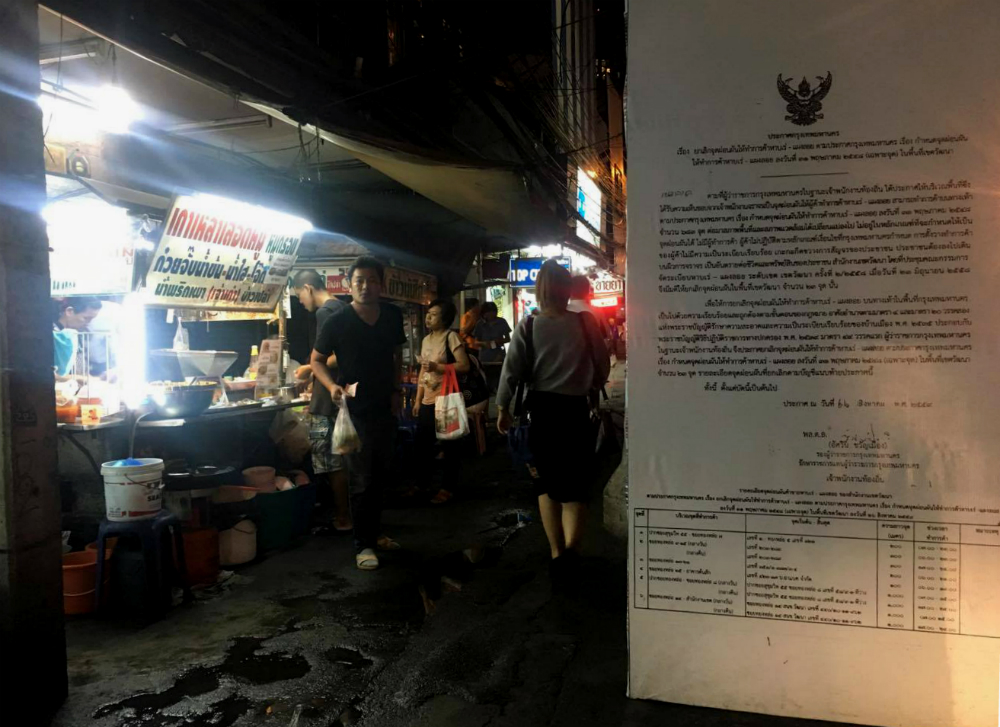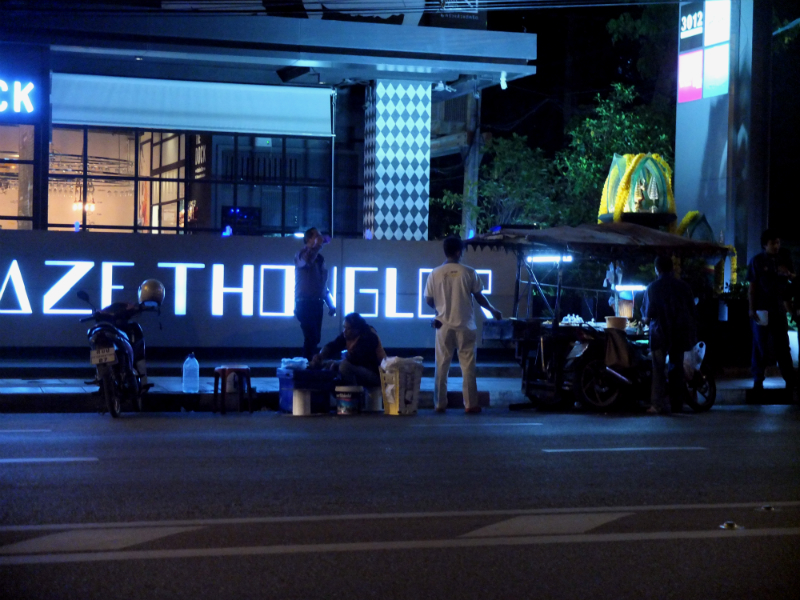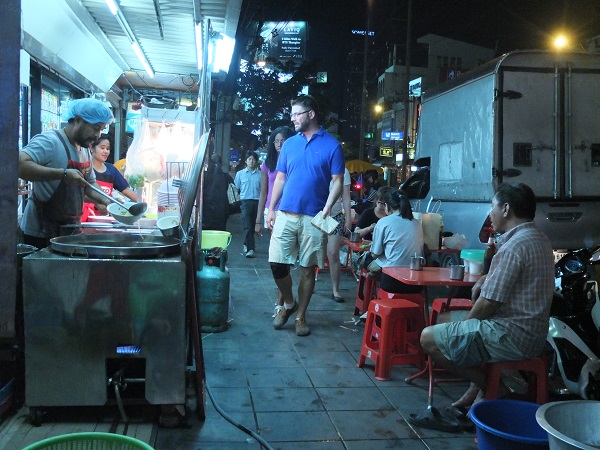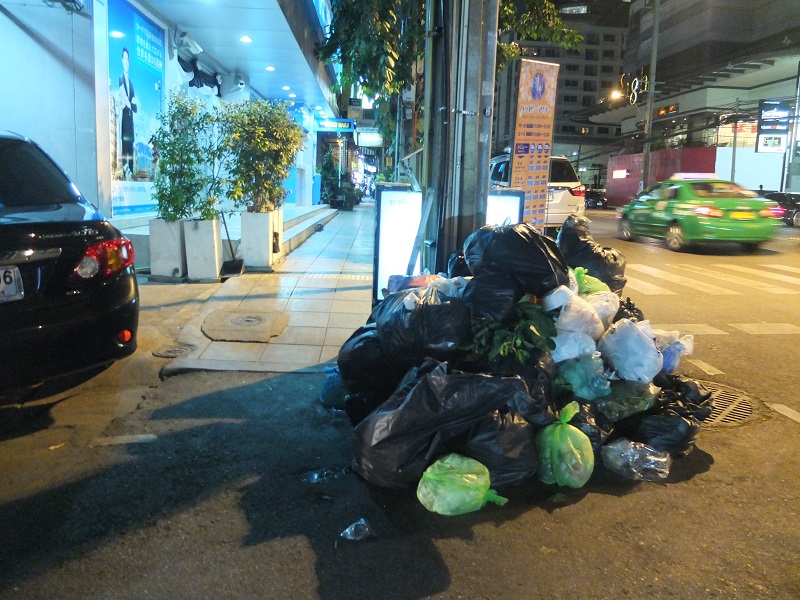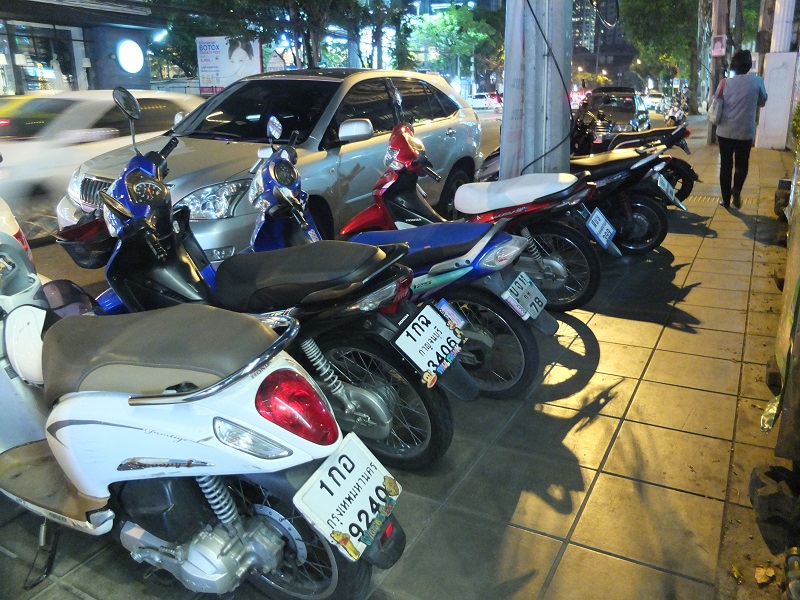 Related stories:
Khaosan, Chinatown Street Markets Permitted to Stay
On Nut Vendors Told to Move Out as Nana Vendors Move Back In
Siam, Silom, Sukhumvit Street Markets Shut Down
'We'll Be Back,' Siam Square Sidewalk Sellers Swear
Sukhumvit Street Vendors Ordered Off Road Tonight. Will it Be Business as Usual?