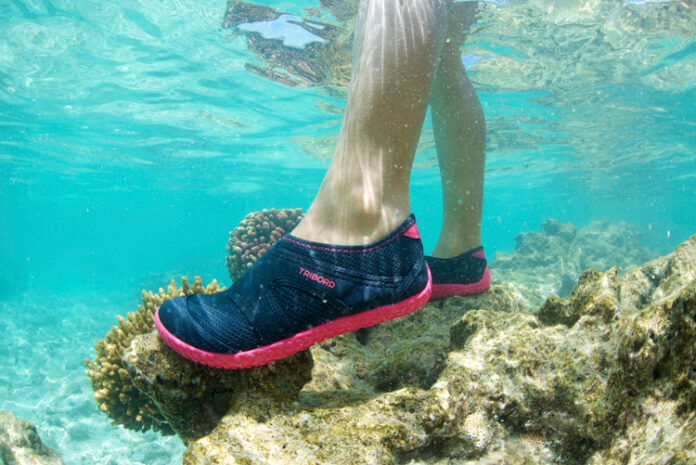 BANGKOK — Marine experts and environmentalists were left seething Friday by marketing images for a brand of aquatic shoes in which models appear to step on coral.
Images of the underwater shoe ad posted online to Siam Trend Shop were shared by a popular oceans expert just after midnight early this morning. They were met with criticism from those saying they encourage the destruction of coral reefs. The ad has since been taken down and the manufacturer has disavowed any responsibility for it.
"When someone sent me the ad, I was shocked," said Sakda Wichiansin, deputy director of the Marine and Coastal Resources Department. "We have been trying hard to preserve the oceans and raise awareness of our marine resources, especially coral."
Sakda said the department would contact the ad's makers to notify them it portrayed illegal behavior.
The Kasetsart University fisheries professor who first brought attention to the ad, said it "cut into the hearts" of ocean lovers.
That post by Thon Thamrongnawasawat, which included a screenshot of the ad from a Facebook shop and the hashtag #CoralisaLegallyProtectedAnimal, went viral on Facebook.
Tribord is a brand of French sporting goods retailer Decathlon, which has chains in Thailand's Tesco Lotus hypermarkets.
Decathlon Thailand published a statement at 11am saying it had nothing to do with the ad.
"Tribord is imported into Thailand, and buyers have bought them from us for resale. The ad photos that have cropped up are not the property of Tribord or Decathlon. These shoes were made for walking on slippery rocks and through water, which can be seen in the official ads," it read.
The company said it was committed to supporting sustainable tourism in Thailand and hoped its "customers do not use our products to destroy the environment."
Thailand's coral reefs have been devastated by tourism, pollution, coral bleaching, coastal development and warmer waters.
Related stories:
355 Threatened Marine Animals Killed in 2016
Giant Whale Killed by Boat Pulled Ashore in Prachuap Khiri Khan
Huge, Friendly Whale Shark Joins Sea Cleaning Crew (Photos)