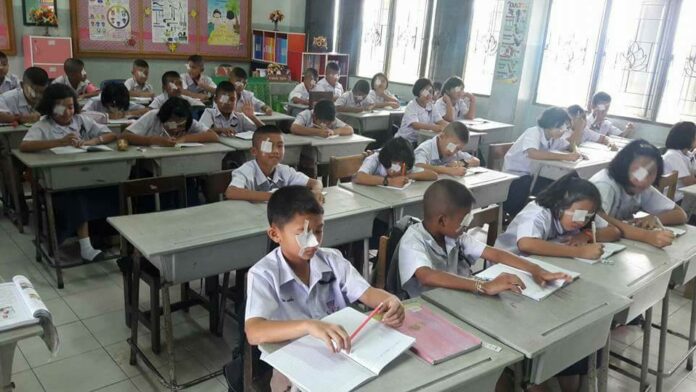 YALA — Many on social media on Thursday were praising a teacher who instructed her fourth graders to cover their right eyes to appreciate how His Majesty the Late King Bhumibol must have felt when he toiled for the nation with only one good eye.
A photo of the activity drew widespread admiration from social media users after it was shared online Wednesday. Many comments praised the teacher, identified as Kanokkwan Rojanasawinya of Yala Anubarn School, for her creativity.
Read: King Bhumibol, Monarch and Father to Millions, 88
"First day of class… the teacher told her students to work with one eyes closed and think of someone, about how difficult it was for him to work with only one eye for us throughout decades," the admin of Voice From Motherland page wrote in a caption to the post that had been shared more than 1,000 times by Thursday.
King Bhumibol, who died Oct. 13 at 88, lost his right eye in a car accident in Switzerland in October 1948, when he was 20. He was hospitalized in Lausanne for treatment, and it was during his recovery that he became close to his future wife, Sirikit.
The teacher behind the stunt wrote online that she did it in class Tuesday in hope her students would appreciate the late monarch's sacrifices.
"I didn't want to promote myself," Kanokkwan wrote on Facebook. "My intention was hoping that this teacher would make more good people. I wanted the students to be grateful for His Majesty the King."
Kanokkwan could not be reached for further comment Thursday.
According to the photos she posted, she teaches fourth grade at the school in the southern border province.
"When I didn't read the caption, I thought the entire class was infected by some disease, but after I read it, I understood what the teacher was teaching. Brillant idea," Facebook user Suwara Saibuakaew wrote in reply.
King Bhumibol was revered by many Thais as a wise fatherly figure who worked tirelessly for the nation throughout his 70 years on the throne. The government has declared a year of national mourning.
Related stories:
Buriram School Seizes Students' Colorful Winter Jackets
Bangkok, Famed Capital of Free-Wheeling Fun, Goes Dark Indefinitely (Photos)
Black Friday: Crowds Throng Palace For Final Glimpse of King (Photos)
Crowds Swell Along Route of King's Journey to Palace
Prayuth Calls for Year of Mourning for King
Grief Pours Out Home and Abroad for Death of King Bhumibol