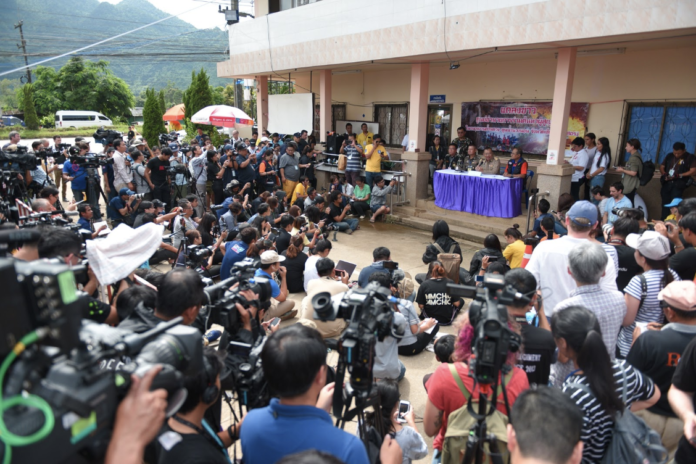 BANGKOK — A story with the trappings of a Hollywood film made headlines worldwide last month when 12 young footballers and their coach were rescued against all odds from a flooded cave in northern Thailand, where the media presence itself became a talking point.
The conditions at the site, where ethics collided with pressure to feed world interest, were recently discussed by reporters who covered the event last month in Chiang Rai. At the Foreign Correspondents' Club of Thailand, the consensus was they generally got it right, with a few criticisms of how journalists behaved.
"That was one of the most intense things I've ever been a part of," freelance journalist David Foster said.
Foster was among about 500 reporters, photographers and fixers to gather outside the cave in the days before the boys were found on July 2, which precipitated another surge of the foreign press. Before members of the local community stepped in to help organize things, there was no shade and seating, and not enough signal to send footage back to their newsrooms, Foster said.
He and the other reporters present commended the locals and private companies who offered support and fed the rescuers.
He described muddy conditions, hot and humid weather, rainstorms and short tempers. By the time the boys were found, nearly 1,000 journalists were on site.
Accounts surfaced of reporters racing to interview friends and family members of the kids. The lack of information coming from official sources and pressure from newsrooms to get a new angle every day, increased tensions. Other accounts surfaced of photographers taking images without permission, and fuses running short as the weather and heat worsened.
"We've been working in a very tough and stressful environment," a local reporter for a foreign media outlet said, describing an altercation she had with another journalist. She was not on the panel and spoke anonymously due to her company's policy.
Friends of the 12 boys trapped in the cave had come to sing songs of support, and journalists competed for the best spots and the first interviews. While she tried to get a view, a cameraman shoved her out of the way.
"He called me 'crazy' for speaking up," she said of a threatening exchange that left her feeling defeated and embarrassed.
Read: Reporter's Notebook: Mud and Adrenaline in Chiang Rai
Later, she said the same man was trying to reach her as she interviewed one of the boys, but a friend blocked his way. Still, she feared he would hurt her.
"Don't come near me," she recalled telling him. "Don't touch me."
Her shouts could be heard outside of the frame in multiple recorded interviews taken at the time.
"Most people just thought I was crazy, instead of helping," she said, adding that there was nothing in company policy to prepare her for such a moment.
But there were few anecdotes of such reports. At the FCCT panel, Jonathan Miller, a former Asia correspondent for Channel 4, said that, as a whole, the foreign and Thai media worked together.
"We had to cooperate because no one knew what the fuck was going on," he said.
In The Dark
Newsrooms back home demand updates, and the lack of information from government officials had reporters scrambling to come up with anything.
What began as twice daily briefings gave way to once per day at an undetermined time. A press conference featuring a VIP announced for 6 p.m. occurred after midnight, according to people there. This is a challenge when reporters have a one-hour airtime back home.
Editor's demands for hourly updates prompted journalists to interview other journalists, sometimes creating a mill of rumors, according to Liam Cochrane, Southeast Asia correspondent for the Australian Broadcasting Corporation.
During a lull in information about the operation, he recalled seeing two cameramen filming toilets in the men's room for a story about conditions at the site.
"You know the story is running out of fresh angles when you see this kind of thing," he said as the crowd laughed.
Most people don't understand the pressure reporters are under to find new ways to tell the story, freelance producer and panelist Nat Sumon said.
The press was kept to an area just outside the rescue area, but officials still told reporters to keep the roads clear and not to interfere with volunteers at work. When the rescue operation was set to begin, officials ordered all media out just after dawn. They were moved to the parking lot of local government offices several kilometers away.
Read: Reporters Ejected From Cave Rescue Site
Ethical Considerations
Finding people to interview while not interfering with their duties or crossing ethical lines was another challenge.
Many of the most important sources, especially the foreign rescue divers close to the critical rescue effort, declined to speak entirely. Others spoke of their experiences. Most went silent when the actual rescue operation began, only to speak freely following its best-case outcome.
Belgian diver Ben Reymenants, said once the operation began, divers were ordered not to speak to the press until everyone made it out safely.
Foster, the freelancer on the panel, said a Line chat group for government officials to share information with the media went silent and was mostly only in Thai.
Even with the lack of information and rough conditions on site, there was an ethical code that nearly everyone followed, according to Nat, the producer. She described the moment the first boys were brought out of the cave and their names leaked on Twitter. Thai and international journalists alike chose not to publish them to respect the families of the boys who still awaited rescue.
But criticism erupted July 9 when officials denounced news agencies using drones in their coverage, which they said could disrupt the flight paths of the military's emergency helicopters. A local television channel apologized for doing so following widespread social media criticism.
But Tuangtong Soraprasert, a media literacy lecturer in the communications faculty of Burapha University, said journalists face a valid obligation to keep the public updated, even when information is scarce.
He said the responsibility lies equally between the press and government, adding that reporters should respectfully wait for press conferences, while the government should try harder to provide more frequent information.
Tuangtong said editors must be aware that this pressure can push reporters to cut corners to get the information. This becomes a problem, she said, where misinformation can spread.
Sensitive Subjects
One of the stories most compelling dimensions – that those trapped were children – added another complication.
The national psychiatric association's Alanya Ratchatanan called on the media, posting a set of guidelines, to give the boys and their families privacy so they could adjust to normal life.
Government officials also told reporters to stay away from the boys' families. The consensus at the FCCT panel was that most journalists, local and international, obeyed those wishes.
However, some foreign media posted fixers, or local assistants who translate and help with reporting, near the boys' homes, and told them to pretend to be relatives or offering money, Cochrane of the Australian Broadcasting Corporation said.
Miller pointed out that while most journalists obeyed the rules, any reporter would jump at the chance for an exclusive interview, mentioning a highly criticized interview.
After US network ABC aired an exclusive interview with one of the boys, they came under fire from the public, government and other media, domestic and international.
Related:
Thailand Seeks Control Over Movies About Cave Ordeal