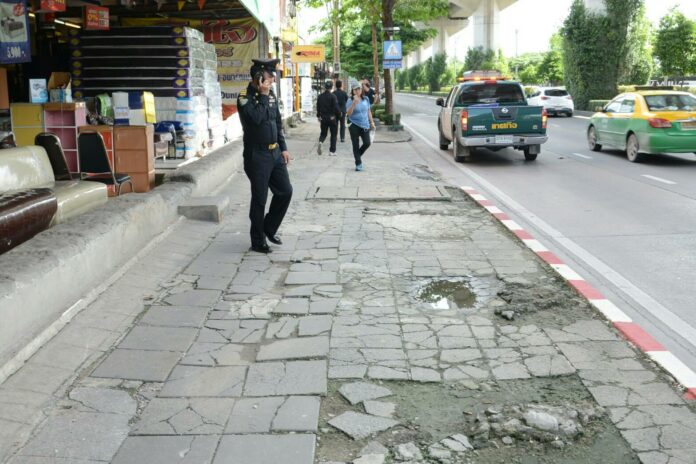 BANGKOK —  City Hall on Tuesday pledged to fix broken sidewalks across five districts in southern Bangkok, an issue city planners blamed on street vendors.
Wanchai Thanomsak, director of city planning at Bangkok city hall, announced plans to renovate the capital's deteriorating sidewalks in the districts of Bang Na, Pathum Wan, Watthana, Khlong Toei and Phra Khanong in an effort to make them walkable again.
After major downtown areas were cleared of street vendors in April, the footpaths they left empty are nagging officials for a repair.
Read: See Bangkok Before and After Street Food (Interactive)
"The sidewalks as well as traffic signs along Rama I, Ploenchit, and Sukhumvit roads have been damaged or deteriorated in condition due to street vendors on the sidewalks," Wanchai said Tuesday.
He said he and local city officials took Saturday to inspect 24 kilometers of sidewalks around Bangkok.
"We found over 500 broken sidewalk spots and 100 broken traffic signs," Wanchai said. "District officials, traffic officials and transport officials will start fixing these spots, which have also been damaged by drainage pipes that drip water onto sidewalks."
Local district officials will start asking residents to get rid of ubiquitous PVC pipes that drip water onto passersby as well as potted plants that people place on the sidewalk, both of which cause inconveniences, Wanchai said.
Related stories:
Celebrate Bangkok's 235th by Getting to Know All 50 Districts (Interactive)
Those Who Toil For Bangkok Deprived by Loss of Street Food
Khaosan, Chinatown Street Markets Permitted to Stay
Vanishing Bangkok: What is the Capital Being Remade Into, And For Whom?
Siam, Silom, Sukhumvit Street Markets Shut Down