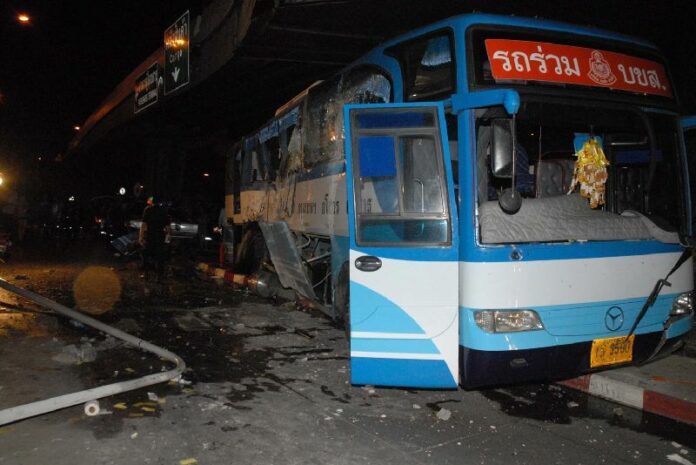 BANGKOK — Twelve people were wounded, including a woman who lost the fingers on her left hand, when a public bus crashed into a wall outside of Don Mueang Airport in northern Bangkok early this morning, police say.
The bus was carrying 18 passengers from Yasothon when it smashed into the barricade outside of the airport's entrance at around 3 am today, said Pol.Lt. Worakorn Nattamangkang, an officer at Don Mueang Police Station.
According to Pol.Lt. Worakorn, four women and eight men were injured in the accident. He added that all windows were broken, and one of the victims lost the fingers on her left hand. Another victim suffered a broken shoulder.
The inter-provincial bus was operated by Wattana Sakhon Tour company.
Narin Deewai, the 50-year-old driver, reportedly told police he lost control of the bus because of heavy rain at the time. Narin has been charged with reckless driving leading to injuries and property damage. The cost of damages for the airport wall will be estimated by the Airport of Thailand agency, police say.
Thailand has one of the highest rate of road accidents in the world. Experts blame the problem on poor safety standards and poorly-enforced traffic regulations.
On the same day, a passenger was killed when an inter-provincial bus crashed into a truck in the northeastern province of Nakhon Ratchasima. Earlier this week, three tourists from Hong Kong died after their van smashed into a tree in Petchaburi province in southern Thailand.
Dong Mueang is the smaller of two international airports in Bangkok; the other airport, Suvarnabhumi, is located in an eastern suburb.