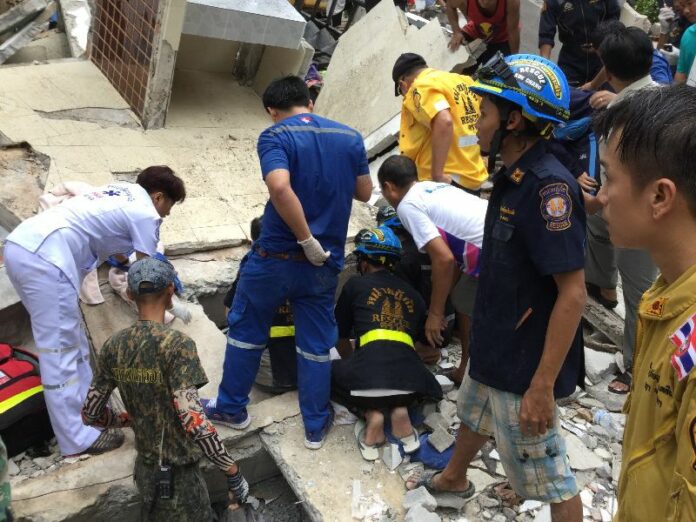 TRAT — Three adults and a 2-year-old child were found alive today by rescue workers following the collapse of a hotel on Koh Chang this morning.
One person was killed and five were trapped inside a hotel destroyed on the eastern island early Saturday morning after heavy rain caused a landslide. The deceased was identified as Kotchakorn Thammjak, a 37-year-old Thai national. Her body was recovered Saturday evening, according to local authorities.
The three adults and one child were rescued late Saturday morning on the resort island of Koh Chang in Trat province. One woman is still trapped in the remains of the hotel as of mid-afternoon Saturday.
Siam Beach Resort, a small hotel  located next to Siam Beach, collapsed at around 6am on Saturday.
Among three of the rescued tourists brought to the hospital was a young child with only minor injuries and an adult with a broken arm, Trad Hospital Director Teerapong Tu-nag said.
Kamthorn Waehon, the Koh Chang district chief, visited the scene this morning and said that the hotel was a two-story structure with four rooms.  He added that authorities believe that the building's collapse might have been in part due to poor construction, compounded by how closely the resort was located to the beach.
Related stories:
One Dead, Five Trapped in Koh Chang Hotel Collapse