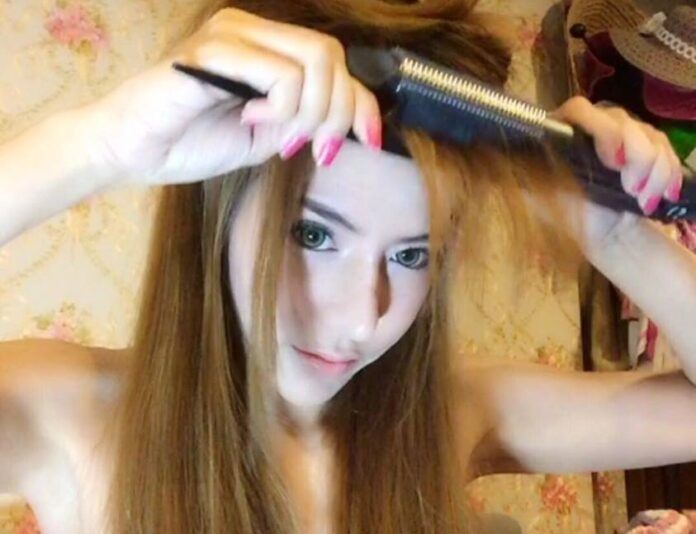 BANGKOK — Three days after an internet celeb allegedly injured three people on a busy road, she had yet to be charged with any crime, and the results of a drug test were still unavailable.
On Friday, the case which has invited complaints about two-tiered justice didn't seem to be moving forward, with the head police investigator and a hospital director pointing fingers at each other over delayed test results for Kritrada Tabtimphol.
Read: Cops Waived Sobriety Test for Net Idol 'Millionaire Pretty'
Kritrada, a successful online entrepreneur known as "Millionaire Pretty," behaved erratically after allegedly causing a multi-vehicle accident Tuesday but was allowed to depart without undergoing any sobriety test. She's since been admitted to a hospital for treatment of "stress," where a blood test was conducted upon her arrival.
"We submitted the request on Nov. 2, but the [hospital] still hasn't sent it to us," said Papinawit Senaplaeng, deputy inspector of Huai Khwang police. "They're waiting for the director to sign it first."
Songpol Chawaltanpipat, director of Ratchaburi Hospital, denied any request had reached him. Kritrada, 28, is being treated in his hospital's psychiatric ward for stress.
"I haven't received any documents from the police," Songpol said by telephone. "When did they say they sent it to me? … Maybe it hasn't arrived yet?"
Songpol also said hospital staff needed to check the results for accuracy before sending the report to police.
"We have to wait and confirm them. It takes a little time. There can be false positives and false negatives," the hospital director said. He would not give any timeframe.
The crash took place Tuesday afternoon in front of the Esplanade shopping mall.
Kritlada allegedly caused eight vehicles to crash and shouted about a bomb when she exited her BMW. She also appeared to be praying or meditating in the road.
Under the law, any motorist involved in an accident who does not submit to a sobriety test is automatically charged with driving under the influence. Yet police waived that for Kritrada, saying she was too deranged.
Capt. Papinawat said police couldn't test her at the police station because she was acting like a madman and couldn't communicate with officers. Police eventually let her be taken away by her family. They took her to the hospital, where she was tested upon arrival.
Papinawat denied making an exception and said legal prosecution would proceed despite the delay.
"It won't affect the case at all. If we find any substance in her body, we will simply file an additional charge [of DUI]," the police captain said. "It won't affect the court case."
Papinawat added that police have yet to file charges relating to reckless driving and injuring others because she was still being treated for stress, and the doctor in charge would not allow police officers to speak with her.
"I talked with the doctor yesterday, and he said the patient is not in a condition to give testimony," Papinawat said.
The incident has prompted some to lash out at the authorities for seemingly sparing Kritrada from the full force of the law, similar to other cases of traffic accidents involving the prominent or wealthy.
"She's just doing the same as many other well off celebrity or hiso elites have done before her," user Baerboxer wrote in response to the news in the ThaiVisa forums.
Related stories:
Claiming Insanity, Fatal Crash Suspect Jenphop Wants Trial Shelved
Praewa Completes Community Service, 4 Years After Court Orders It
Out of Sight and Mind, Actress' Fatal Crash Case Ends Without Jail Time