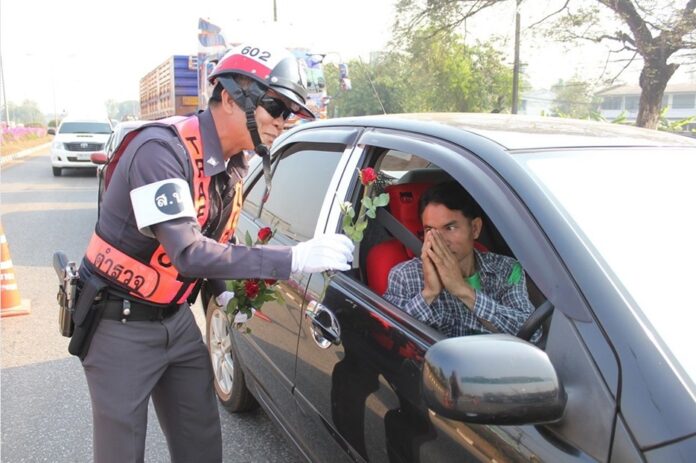 BANGKOK — A new type of traffic ticket, which includes a barcode and English translation, will come into universal use early next year, police said Thursday.
In addition to impeding corruption, the new tickets allow traffic violators to pay fines at an ATM and are translated into English for the ever increasing number of foreign motorists in Thailand, said Jirapat Phumjit, deputy commander of Bangkok metro police. They also cannot be simply ignored as the old tickets often were.
"There are still some left in the circulation," Maj. Gen. Jirapat said in an interview. "They can still be used, but they will run out soon, because the new forms will replace them … I think they will be all gone within the next two months."
Jirapat also said the new tickets are already being used by traffic police nationwide.
Motorists previously caught breaking traffic laws were handed written tickets and had their driver's licenses confiscated. Violators had to travel to the police station in order to pay any fines and retrieve their licenses. Or they could elect not to, and just drive without their licenses.
In March, after police pointed out only 11 percent or about 75,000 of 680,000 parking tickets were paid in a six-month period, junta leader Prayuth Chan-ocha tried to rein in the scourge of unpaid tickets by using his absolute power to deny them renewed licenses.
People who don't respond to police reminders to pay the fines within two weeks after they are sent out are also liable for prosecution in court, according to the order.
Traveling to the police station is no longer necessary under the new system, Jirapat said. Motorists can simply pay their fines via any Krungthai Bank ATM or Counter Service at many supermarkets and convenience stores. Police stations will mail the confiscated driver's licenses to violators once the fines are paid, he said.
Apart from convenience, the new tickets are also bilingual.
"We are now more inter," Jirapat said, laughing. "Many foreigners drive these days. Many come from our neighboring countries via the land borders, so we have English translation."
Related stories:
No More Police 'Extortion' Checkpoints, New Chief Vows