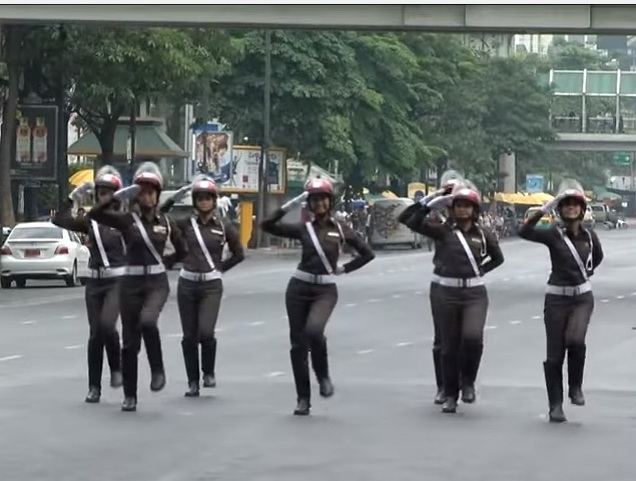 BANGKOK — A pair of police deputy inspectors were suspended and placed under investigation Monday for allegedly embezzling more than 50,000 baht in traffic fines.
In another embarrassment for the police force, the news comes at the heels of two other scandals involving cops and their alleged abuse of power in recent days.
A police notice released Sunday said Cpt. Thaworn Masena and Sub. Lt. Charin Sutthipan, both deputy inspectors in Bangkok's traffic division, embezzled 54,600 baht worth of fines from the force in a five-day period, Jan. 17 – 21, 2015. As a result, both officers were suspended until the investigation is concluded, it said.
Col. Thinnakorn Natthamangkang, deputy commander of the traffic police, said the investigation will not take more than a year.
"We have instructed the accused to produce evidence to confirm their innocence," Col. Thinnakorn said. "We'd like to insist that we will be impartial in our examination of the facts."
The police force is plagued with reports of corruption and malfeasance.
Just last week, two police officers in Bangkok were suspended for their involvement in an alleged bribery scheme, and a police inspector in Pattaya became national news for allegedly trying to extort a bar owner, only to discover she's an acquaintance of national police chief Chakthip Chaijinda.
Related stories:
Celeb Finds Not Everyone Amused by Cop-Bribing Story
Corruption Catch-22: Report a Bribe and Go to Jail?
Thailand Wins 'Ig Nobel' Distinction for Bribing Cops not to Take Bribes
Policeman Rewarded 10,000 Baht For Declining Bribe
Underage Girls, Police 'Bribe Ledger' Discovered in Raid on Ratchada Flesh Parlor