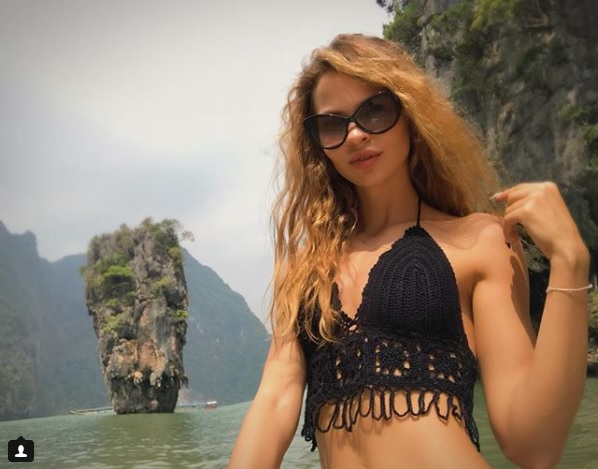 BANGKOK — The prosecutor's office is deliberating whether to indict a Russian sex guru and Belarusian escort whose claims to have compromising information about the 2016 US election have garnered international attention, police said Wednesday.

Anastasia Vashukevich and eight other alleged "sex instructors" was forwarded to prosecutors Tuesday with a recommendation to try them for working in Thailand without a permit, police spokesman Krissana Pattanacharoen said.
"Now it is up to the prosecutors whether they will take up the case," Col. Krissana said. He added that he does not know when a decision will be reached.
Khaosod English Exclusive: Russians in Thai Jail Offer Secrets on Trump Election For US Asylum
At the time of their arrest late last month, Kirillov was working with the Belarusian model. Eight others were also arrested with them. All suspects are being held at the Immigration Detention Center in Bangkok.
If the case is taken up and a guilty verdict rendered, the group would be deported to their home countries, Krissana said.
Known on Instagram as Nastya Rybka, Vashukevich's affair with a married Russian oligarch and Putin ally mixed up in the investigation into alleged Russian meddling in the 2016 US election has inflamed the Kremlin.
Both Kirillov and Vashukevich said they will contest any effort to deport them to Russia, citing fear for their lives. Instead, they said they are offering US officials what they say is relevant evidence if they help shield them from deportation.
Asked whether Thai police and intelligence agency will question Kirillov about what information they may have, Krissana scoffed at the idea, saying it's fanciful.
"What could they possibly have?" the police spokesman said. "These people will say anything."
Vashukevich says she has extensive recordings made surreptitiously of powerful figures, including Russian Deputy Prime Minister Sergei Prikhodko and oligarch Oleg Deripaska, on a yacht. She wrote a book two years ago detailing her secretly recording the goings on aboard the yacht.
The basic facts of her story have been supported by videos and photos posted to Instagram, which were the subject of a YouTube expose by Russian opposition leader Alexei Navalny that has since been made illegal to watch in Russia.
Related stories:
'Nastya Rybka' Teases Secret Recordings – Not For First Time
DSI Investigates Foreign 'Agent' For Threats to Reporters
Russians Offering US Election Secrets For American Protection Moved to Bangkok
Read Letter Offering Evidence of Russian Meddling Just Delivered to US Embassy
Khaosod English Exclusive: Russians in Thai Jail Offer Secrets on Trump Election For US Asylum
Pattaya Cops Crash Sex Class by Russian 'Sex Guru' and 'Oligarch Hunter'