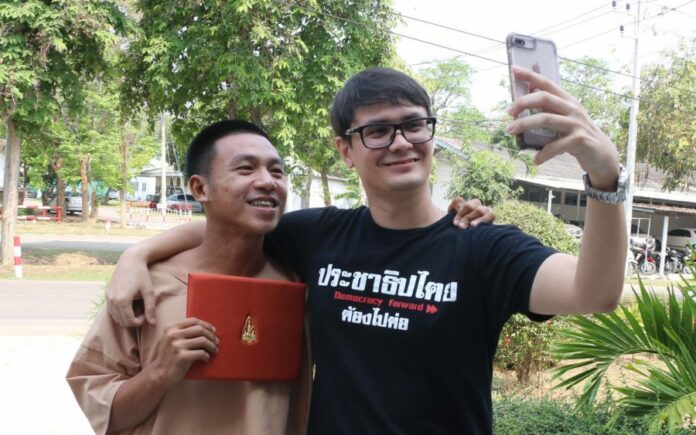 KHON KAEN — A pro-democracy activist was detained briefly at a military court Friday, one day before he plans to lead a protest demanding that the military abolish the ruling junta.
Rangsiman Rome was taken into custody Friday over two-year-old charges he violated the junta's ban on political assembly while in the northeastern province. He was held five hours before being freed at 3pm on a 10,000 baht bond from the 23rd Military Circle Headquarters.
"I'm not anxious about this case," Rangsiman said Friday afternoon before pivoting to discuss Saturday's march. "Tomorrow I will still lead the walk from Thammasat University, Tha Prachan campus, to the army base for a march to raise awareness as planned, even if the court order says I can't do it."
Rangsiman has been barred from leaving the country or "inciting incidents." He will be summoned for questioning on May 7.
Jatupat "Pai Dao Din" Boonpattaraksa, who is serving a prison sentence for royal defamation, briefly met Rangsiman at the court to give evidence. Both men, as students, were charged for campaigning against the junta-backed charter at a July 2016 event at Khon Kaen University.
Rangsiman said he only learned of the charges last month.
"I never received a summons. I only knew last month when I was detained. Today I came to meet with the military court's prosecutors. Therefore, it's up to the prosecutors' jurisdiction if they will charge me or not," he said.
Rangsiman was greeted upon his release by friends and Jatupat's parents, Wiboon Boonpattaraksa and Prim Boonpattaraksa.
Saturday's protest, Rangsiman said, will call for dissolving the junta, restoring democracy and a third point he would not disclose before the march.
"I don't want to reveal the last point now, because I'm afraid we will be prevented from holding the event," Rangsiman said.
Rangsiman has been charged with numerous offenses during several years of activism since the 2014 coup. He was most recently among those charged with inciting rebellion and violating the public assembly law when the latest wave of protests erupted anew in January.
Related stories:
Court Frees MBK39 Leaders to Await Trial
Activist Cites Chinese Rail Project as Reason for His Arrest