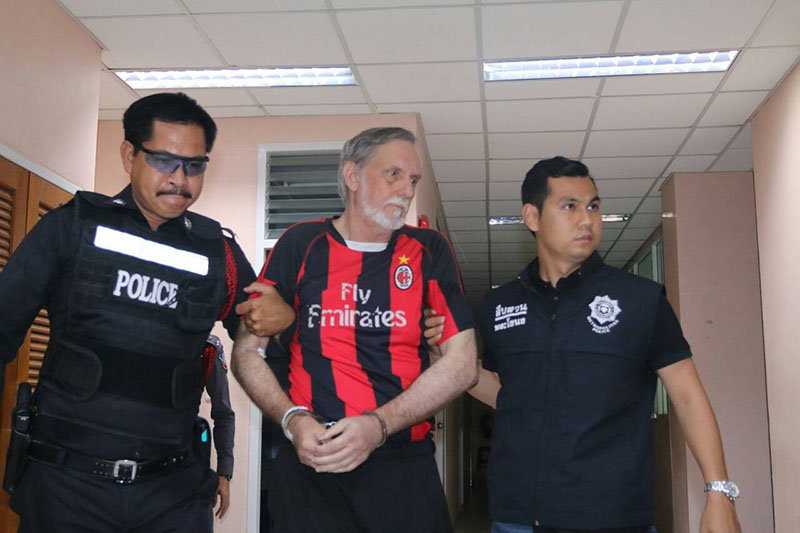 BANGKOK — An autopsy on the frozen remains of an American citizen found during a dramatic raid in Bangkok last month found the victim was injected with a barbiturate commonly used as an anesthetic and "truth serum," a police source said Wednesday.
In addition to finding sodium thiopental in the remains of the man identified as Charles Edward Ditlefson, the autopsy also suggested he died of either asphyxiation or poisoning before being cut into the 11 pieces discovered Sept. 23 inside a shophouse freezer in Soi Sukhumvit 56.
The drug is a fast-acting depressant which in seconds induces a state of hypnosis and anesthesia, according to the U.S. National Institutes of Health. It's also sold under the brand name Sodium Pentothal and is colloquially known as a "truth serum."
Read: Frozen Body Identified as American Publisher
"This kind of substance is only used by anesthesiologists," the police source said on the condition of anonymity as he was not authorized to speak about the case to the media.
The raid was originally intended to bust a passport forgery ring believed to be operating there. Three American nationals were taken into custody: Herbert La Fon, Aaron Gabel and James Eger.
All of them denied killing Ditlefson, a California railfan once known for publishing calendars featuring old trains.
La Fon, who allegedly shot a cop during the arrest and was on the run from the FBI for nearly four decades, reportedly admitted to cutting up the man's body and hiding it in the freezer, possibly as long as eight years ago.
The three suspects are being held at Bangkok Remand Prison to await trial. Police are scheduled to seek an extension to their custody on Friday.
Additional reporting Todd Ruiz
Related stories:
Frozen Body Identified as American Publisher
Police Say American Admits Cutting Up Victim, Denies Killing Him
Frozen Body Identified as American Publisher
Report Says American Linked to Dismembered Body Confesses to Murder
Suspected Forgers' Frozen Body Thought to be Older Western Man
Police Can't ID Suspected Farang Forgers Or Their Dead Body
Foreigners Arrested After Raid on Forgery Ring Leads to Body in Fridge