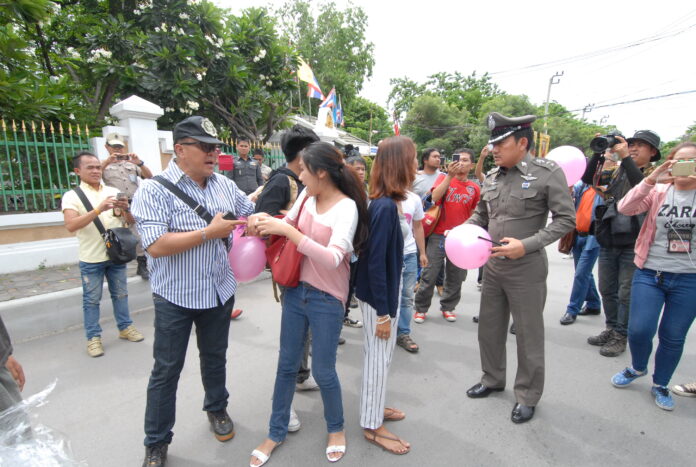 BANGKOK — The girlfriend of an imprisoned student activist leader accused soldiers Tuesday of showing up at her mother's workplace.
While the junta has previously admitted to sending soldiers to the family homes of its critics before, the incident, if true, would be the first known case of security officers harassing parties not related by blood.
The girlfriend of New Democracy Movement leader Rangsiman Rome said more than 10 uniformed soldiers arrived at her mother's office at around 9am and proceeded to take photos for about 10 minutes. When her mother walked out to ask them why they were there, the soldiers quickly drove off.
"I'm very angry. I'm not scared. I'm just angry, and I worry for my family," said the woman, who asked only to be identified as Maejung for fear of retaliation against her family.
She believes they went to her mother's workplace because she uses that address.
Rangsiman and six other activists are currently held in the Bangkok Remand Prison where they await trials for violating the junta's ban on protests Thursday at a campaign event against the junta-sponsored charter.
Junta spokesman Piyapong Klinpan said he cannot comment on specific cases, but insisted that the regime has no policy of threatening anyone, and activists and their associates should not be alarmed if soldiers visit them.
"Each area has security maintenance forces. Sometimes, they go out to meet the people. This is normal. There's no special case," Col. Piyapong said. "In this case of Mr. Rangsiman [and his girlfriend], I believe the soldiers merely wanted to ask for their cooperation. There's no need for soldiers to intimidate anyone."
He also criticized Rangsiman and his activist group for "having a hidden agenda" in their campaigns against the charter draft.
"In this political atmosphere, he keeps stirring up chaos and tries to pull other groups to meddle in the situation. It will lead to unrest. The NCPO will definitely not tolerate this," Piyapong said, referring to the junta's National Council for Peace and Order.
Maejung said she's dated Rangsiman three years – since they met as students at Thammasat University – and she has supported his post-coup activism. But she said this is the first time that soldiers targeted her and her family.
"I believe it is because of Rome, because I went to see him in prison many times," Maejung said.
She said she told Rangsiman about the incident during a Tuesday visit.
"He looked kind of stressed. He told me he also guessed that he was the reason for this," she said.
There have been cases of soldiers stalking family members of critics of the military regime or visiting them at their homes. The junta's opponents accuse the regime of using this tactic to dissuade them from their activism.
Correction: The original version of this article incorrectly stated that Rangsiman and Maejung met as law students. In fact, they studied at different faculties. 
Related stories:
Canada Joins Growing Call to Repeal Police Powers Granted to Soldiers
Soldiers Stalk Yingluck Because She's Pretty: Deputy Junta Chief
Exiled Academic Denounces Alleged Harassment of Family by Junta
Fugitive Academic Says Soldiers Harassed His Mom, 92
Family of Imprisoned Anti-Coup Activist 'Intimidated' By Soldiers