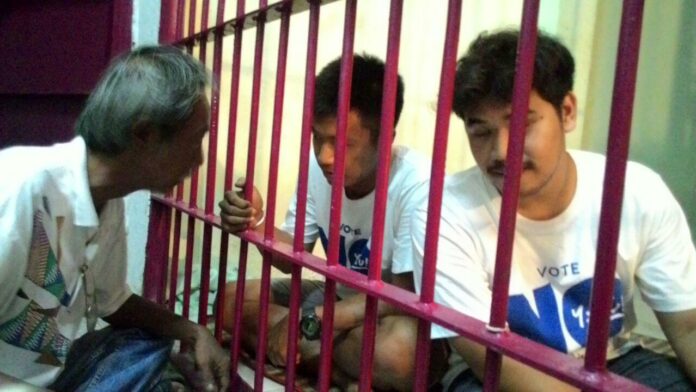 KHON KAEN — An activist imprisoned for handing out leaflets on the eve of the charter referendum remained on a hunger strike Wednesday to protest his arrest and a raid of his family home by police.
Jatupat "Pai" Boonpattararaksa was campaigning against the charter draft at a market in Chaiyaphum province when he was arrested Saturday and charged with violating the referendum law. The 25-year-old activist has refused to post bail, insisting the authorities should free him because his actions were lawful.
Boycott Camp Rejects Results of 'Fake' Referendum
"The kid had no intent to break the law," Jatupat's father, Wiboon Boonpattararaksa, said by telephone Tuesday. "He didn't secretly hand out those flyers. He didn't have any intent to cause unrest. His actions lacked criminal intent. If they did, he would have done it somewhere far from the eyes of police."
Jatupat, a member of the northeastern Dao Din community rights group, immediately began a hunger strike since being imprisoned Sunday in Chaiyaphum province. Wiboon said it was to protest a raid by police of his family home shortly after his arrest.
Wasin Prommanee, a fellow activist arrested along with Jatupat, has already been released on bail.
Wiboon, a lawyer, is representing his son in court.
"He's very angry about that. He didn't care much that police arrested him, but the fact that officers from an entire police station raided his home where his family lived? He's angry, he wants to know why they had to do that," Wiboon said.
Although the referendum ended Sunday with a victory for the junta, critics of the draft charter still face prosecution under a draconian law that banned any campaigning that "misled" the public into voting in favor or against the charter draft. Jatupat and others charged under the law face up to 10 years in jail.
The junta has already ruled out amnesty for the dissidents, but an anti-junta activist and friend of Jatupat said they wouldn't accept it.
"We aren't hoping for amnesty anyway, because if we accept it, it would mean we admit that we did something wrong, and they gave us pardons," said Chonticha Jaeng-rew, a member of the Bangkok-based New Democracy Movement, who visited him Monday. "We assert our right to exercise free expression."
Chonticha said she's worried for Jatupat, who looked exhausted and sickly when she saw him, but remains in good spirits.
"Right now we are trying to set queues for his family and friends to visit him," Chonticha said. "We want to help him first before we engage in any activism. Right now we're trying to spread the news of his imprisonment and contact international organizations."
Wiboon said he respects his son's decision not to seek bail, and played down concerns about Jatupat's health.
"He once spent three months in the monkhood. He knows how to discipline his consciousness. When he was a monk, he only ate one meal per day anyway," Wiboon said. "He is not in any life-threatening condition. His morale is high. He's a strong man."
Correction: An earlier version of this article reported that Jatupat Boonpattararaksa was imprisoned in a Khon Kaen prison. It fact, the prison is in Chaiyaphum province.
Related stories:
Prayuth Promises 2017 Election