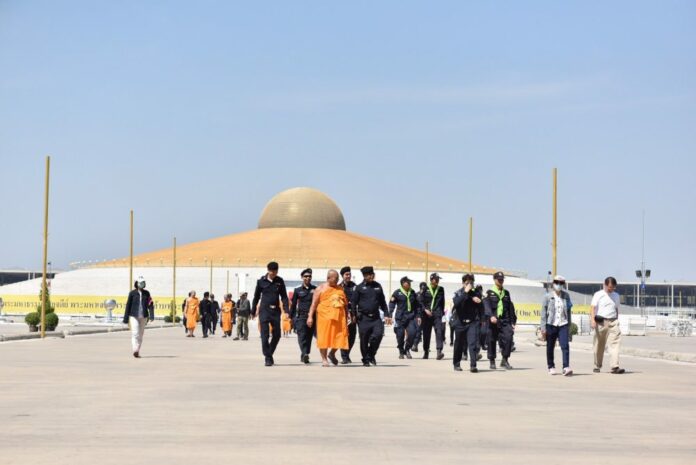 Update: Dhammakaya Supporters Defy Order to Leave; DSI to Withdraw Forces
BANGKOK — The Department of Special Investigation on Sunday issued an order instructing those without residence inside the controversial Dhammakaya Temple to leave the premises within 3pm.
Citing its need to "efficiently" search the area for the temple's spiritual leader, who's been charged with multi-million money laundering, the DSI said the sprawling complex must be vacated, and that any resistance could result in a one year jail term.
"Although in practice officials can search the buildings, outside individuals can still mingle in the area of the temple and continue to conduct their own activities," said the statement. "Officials could not conveniently carry out their tasks, because people in the search area mostly look to the monks for instructions."
Read: Live Updates From Day 2 of Wat Dhammakhaya Raid
The statement said everyone still inside Dhammakaya compounds who do not reside in the temple premises, must leave via any of the complex's gates, where officials will set up checkpoints and ask for identification papers – ID cards for civilians, and temple documents for monks.
Those who do have residence were required to identify themselves at Gate 6 before 3pm, the statement said.
Dantamano Bhikkhu, a monk-spokesman of the temple, said via a private online message that the administration is still discussing what to do.
The DSI has been searching the sprawling temple complex in Pathum Thani province since Thursday, after a ruling junta declared the area a "controlled zone," granting security officers authority to search buildings, make arrests and cut off any water or electricity supply as they see fit.
The search is related to an outstanding arrest warrant in which Dhammakaya's former abbot, Dhammachayo, is accused of receiving millions of baht in donations that were embezzled from a cooperative union. The temple denied the allegations.
Leaders of the Dhammakaya sect also maintain that the 72-year-old abbot is too ill to meet with the police to discuss the charges, and deny any knowledge of his whereabouts.
Correction: This article previously stated that the DSI had ordered Wat Dhammakaya to be completely vacated by 3pm. The statement only requires those without residence to leave the premises. It also stated that the temple had to be vacated solely through Gate 6. The statement issued does not specify which gate must be used.
Related stories:
Dhammakaya Says Govt Siege Not 'Buddhist Way'
Dhammachayo Removed as Abbot of Dhammakaya
Dhammakaya Defies Order to Halt Broadcasts
Deadline for Dhammakaya Abbot to Surrender Expires, Again
A Look Inside the Besieged Wat Dhammakaya
Yellow & Red Seen in Orange Folds of Dhammakaya Scandal