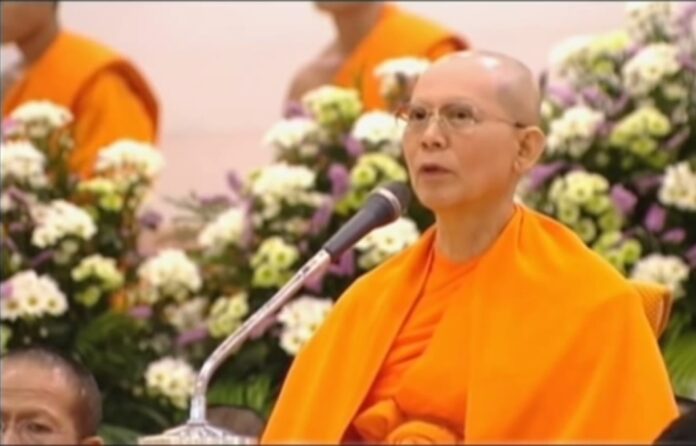 BANGKOK — The spiritual leader of the influential Dhammakaya sect was stripped of his royally bestowed ecclesiastic title Sunday night on instruction of His Majesty the King.
The abrupt demotion of Phra Dhammajayo, who until Sunday night held the royal rank of Phra Thepyanmahmuni, was announced on the website of the Royal Gazette, citing his refusal to cooperate with authorities on his money laundering charges.
The Royal Gazette's statement, which was countersigned by junta chairman Prayuth Chan-ocha, said Dhammajayo faced a number of criminal charges, including money laundering and conspiracy to launder money. It said that his refusal to turn himself in made him unfit to hold the ecclesiastic rank of Thep – one of the most important royal distinctions of Thai Buddhism, which was awarded to him in 2011.
"Phra Thepyanmahmuni has refused to surrender per his warrant and fled the aforementioned charges, therefore he does not deserve to remain in the rank," the statement said. "His Majesty hereby issues a royal command stripping Phra Thepyanmahmuni from the rank."
The order meant that Dhammajayo is now an ordinary monk in the hierarchy of Thai Buddhism.
His demotion came eight months after authorities first filed charge against the 72-year-old monk. Dhammajyo has not been seen in public since, and security forces have been besieging his massive temple for weeks.
Related stories:
DSI Detects Dhammachayo's Phone Signal
Dhammakaya Monks Confront Soldiers Trying to Enter Unfinished Hospital
Inside Wat Dhammakaya, Defenders Say Morale and Mistrust Run High
Dhammakaya Bans Three TV Stations For 'Biased Reporting'
Old Grievances Flare on Social Media Over Dhammakaya's Divisiveness