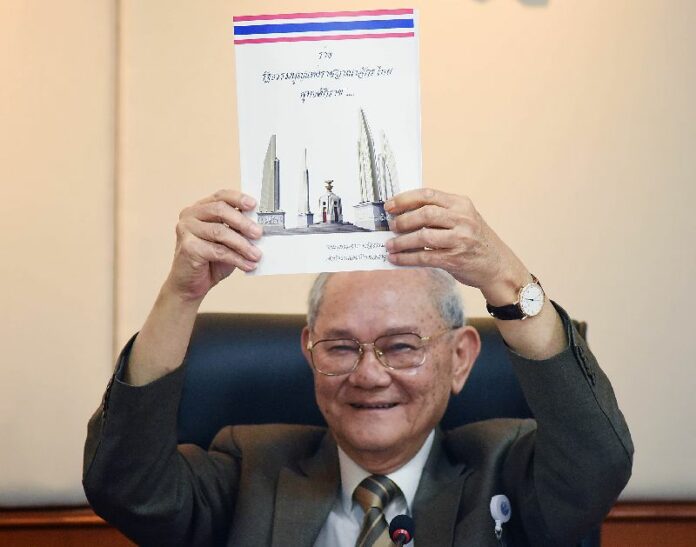 BANGKOK — His Majesty the King is set to formally enact the new constitution on Thursday, which also marks the anniversary of his dynasty's reign over Thailand.
The charter draft was approved in an August referendum organized by the military regime before it was sent back for reworking on the monarch's order earlier this year. Once promulgated, it will be the 20th constitution of the Kingdom in its eight decades of constitutional monarchy.
According to a palace statement released to the media, King Rama X will preside over the ceremony at 3pm in the Ananda Samakhom Throne Hall. All temples throughout Thailand are instructed to toll their bells at that hour to celebrate the occasion.
This Thursday, April 6, is a public holiday commemorating King Rama I's ascension to the throne 235 years ago.
The new constitution is a controversial one. While it was approved in a landslide victory through a national vote, critics say many who voted for the draft did so because the junta never made clear what would have happened had they rejected it, and opponents of the charter were routinely punished for campaigning against it.
Although the junta and the charter drafters argue the constitution introduces better checks-and-balances as well as new mechanisms to stem corruption, pro-democracy activists and politicians warn it will open leeway for the military to interfere in politics.
It's also a unique constitution, because the general public has yet to see it in its entirety. After King Rama X instructed the drafters in January to alter some provisions in the charter, changes were approved by the junta's rubber stamp parliament, but the document itself was never released to the public.
Related stories:
Undisclosed Changes to Constitution Sent for Endorsement
Officials Powerless to Halt Assaults on Referendum by Schoolboys, Monkeys, Coffee Brand