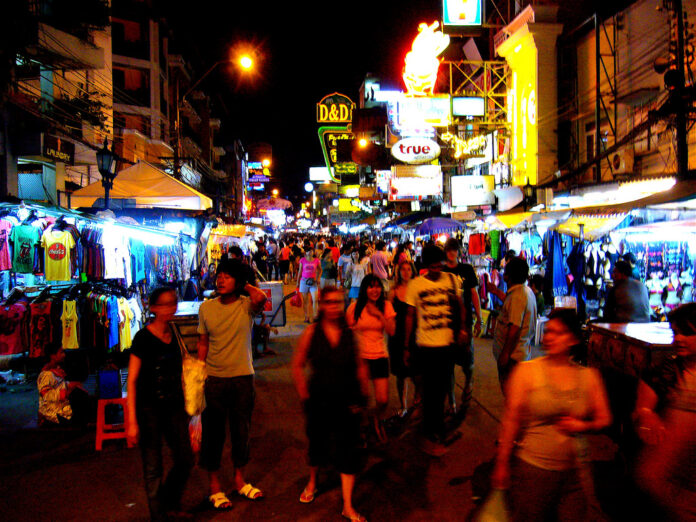 BANGKOK — A Bangkok deputy governor said Sunday he would propose an 88 million baht budget to renovate Khaosan Road and make it more "pleasant" for visitors.
The latest bid from Deputy Gov. Sakoltee Phattiyakul to redevelop the world-famed street market – including paving a new road and building a roof – was cautiously welcomed today by a vendor representative following standoffs over sidewalk selling spaces in recent months.
"I still haven't seen how it's going to be," Yada Pornpetrumpa said. "It sounds like a positive prospect, but I'm not sure how effective it will be."
Sakoltee said the plan, which would be propose to the governor Monday, will modify the area to make it become "pleasant and serve as a Bangkok landmark."
The project would see granite setts laid over the 400-meter street after it's paved to level the road and the sidewalks. A "Thai-style" roof and arched entrances would also be built to ensure tourists can shop there conveniently despite heavy rain or blazing heat.
The new road would cost 44 million baht, while the other 44 million baht would be for the roof, he added. The construction design will first need approval from the conservation committee of the old capital.
The saga of conflicts over Khaosan Road began in July when City Hall said vendors must be cleared off of sidewalks and operate on the road instead. It didn't budge when the new rules were met with strong resistance from the sellers, but had to back down when local police refused to enforce the policy, saying it contradicted traffic laws.
In August, Sakoltee said Khaosan sidewalks would be exempted for vendors only from 4pm to midnight, which was opposed by sellers who said the daytime ban would hurt their business.
Last month, the chief of the local code compliance office said it could not find enough designated space for vendors on the sidewalks as City Hall planned.
With the new idea to get rid of the sidewalks altogether, Sakoltee said it would provide extra space, enough for one-way traffic to be open on a limited time schedule as vendors remain in designated areas. He is considering whether they will be allowed to set up stalls on both sides of the street or just one.
Despite being closed to traffic for decades, Khaosan Road has never been officially exempted from traffic laws. Sakoltee said the exemption, making it legal for vendors to sell on the street, would be proposed to the metro police in two weeks.
But not all vendors will be allowed to sell at the same time, he said, as he plans a weekly draw to make the market "more diverse and not boring."
Yada, president of the local vendors association, agreed that the design seemed to grant sellers more space, but said she did not understand the advantage of the weekly draw.
"What's the purpose of that thing? Let's say some vendors have regular customers. If they have a fixed area to sell, it would be easier for customers to remember," she said. "I still don't get the pros and cons of the draw, because it hasn't been discussed with us."
She then said authorities should communicate with her community to find an effective and sustainable solution together.
"We agree that the way we set up [stalls and carts] has to be regulated to minimize the impact to others," she said. "The best way to do that is to talk to the community and vendors here, otherwise we will never be able to find a compromise."
Related stories:
Unswayed by Protest, City Hall Vows to Evict More Street Sellers
Street Wars: Bangkok Vendors Strike Back
Khaosan Future Remains in Limbo
Defeated, City Hall Again Agrees to Exempt Khaosan
Deal Struck For Khaosan Vendors to Submit Alternate Rules
Khaosan Goes Quiet After Police Ignore New City Rules
Khaosan Vendors to Defy City Hall's New Rules
Feeling Spurned, Khaosan Sellers to March on City Hall
Police the Cops Before 'Choking Us,' Khaosan Vendors Say