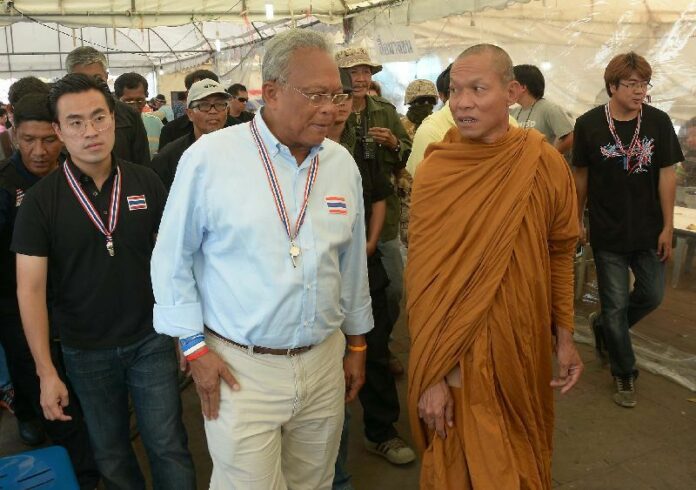 Nakhon Pathom — Hundreds of monks gathered in Nakhon Pathom Saturday morning to censure the activist monk Buddha Isara.
Around 500 monks who said they were from Bangkok and the central region, gathered this morning at the giant stupa Phra Pathommachedi to complain about Buddha Isara. They consider Buddha Isara to be instigating division among monks.
"He was convicted according to the monk code of conduct, rule 200," read the letter they distributed today.
The statement said Buddha Isara violated the monk's code by delivering false accusations and working with laymen to instigate chaos. Buddha Isara was also accused of ignoring advice from superior monks.
It called on monks and Buddhists not to be involved with Buddha Isara and to ignore the monk until he changes his behavior.
The ultraroyalist monk known for leading the pro-coup protest recently openly opposed endorsing the acting Supreme Patriarch and regularly attacks Dhammakaya Temple.
Last month, there was gunfire at night at Wat Or Noi in Nakhon Pathom province where Buddha Isara was sleeping. Nobody was injured.
Related stories:
Gunfire Erupts at Political Monk Provocateur's Temple
PCAD Supporters Rally to Support Jailed Popcorn Gunman'
Hundreds of Monks Clash with Military West of Bangkok (Video)
Politics, Corruption in Battle for Naming New 'Supreme Patriarch'
Ultra-Royalists Call for Removal of U.S. Ambassador
Hardline Royalists Stage Protest in Front of US Embassy