PATTAYA  —  Officials on Sunday ordered an animal attraction near Pattaya where tourists were surrounded by hungry crocodiles to close down, though its owner vowed to contest the decision.
The crocodile adventure at Elephant Kingdom made national news Friday after photos and videos of Chinese tourists feeding the snapping reptiles from a raft trended online, eventually winning statements of concern by officials who said it might not be the best idea for tourism.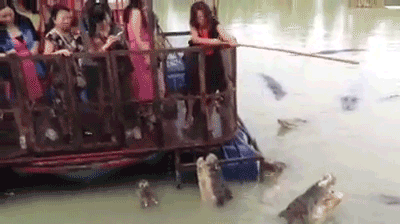 Fearing potential accidents, officials visited the site Sunday, ruled the attraction too dangerous and ordered staff to shut it down for 90 days.
"Let me stress that we aren't here to close down [the animal park]," Fishery department chief Bancha Sukkaew told reporters. "We only suspended the license for the crocodile-feeding activity temporarily. Other activities, such as elephant riding and the zoo are open as normal."
In the meantime, Bancha said, officials will debate whether the attraction is safe enough to reopen, and whether all of the crocodiles were bought legally. The park owner has the right to appeal the order within 15 days, he added.
That's exactly what owner Uthane Yangpraphakorn said he would do.
"I do not accept this order, because I don't know what I did wrong," Uthane said. "If the officials are unsure about safety, the Fishery Department should issue us a letter of warning, instead of suspending my license like this. I don't know if there's any justice left in this country."
Uthane said he's consulting with his lawyer how to best overturn the shutdown order, adding that there have been no accidents since his park opened 12 years ago.
Related stories:
No Safety Net for Unregulated Ziplines
Despite Safety Assurances, More Tourists Hurt at Adventure Attractions