BANGKOK — Khaosod English is reaching more people than ever and on Wednesday shared its success story with hundreds of marketing and advertising professionals.
At an event held at its offices in Bangkok, the news agency celebrated a number of milestones, including reaching more than 100,000 fans on Facebook this month and a record 6.4 million people via all platforms including the web and social media.
Khaosod English also showcased its first forays into innovative digital journalism, such as the launch of its 360 video coverage and forward-thinking ideas for bringing journalism of uncompromising quality into the future.
"We're giving people stuff they can't get anywhere else," said Todd Ruiz, editor of Khaosod English. "When it comes to news, we publish things first or fast, beating the English-language and often the Thai-language media. And we go to great pains to get it right and be fair. That's essential to our core mission to serve and respect our readers."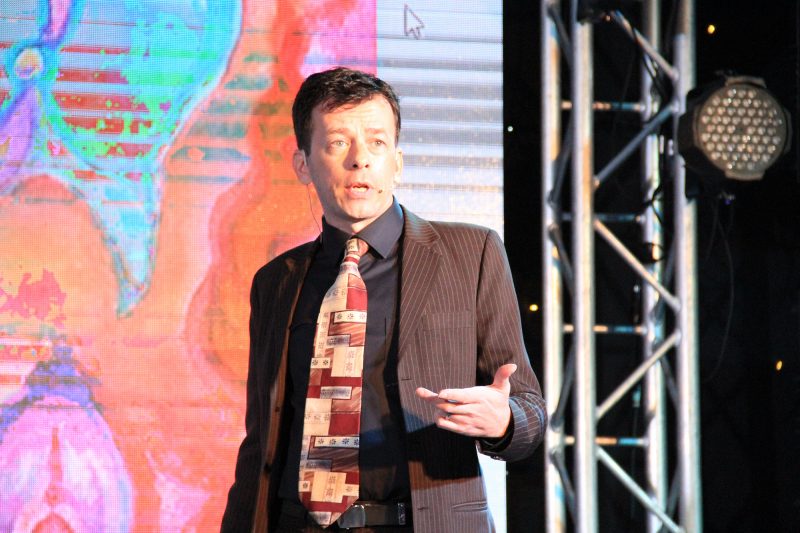 Through its exacting standards, Khaosod English has won acclaim from readers and established itself as the leading English-language media outlet in Thailand.
Since 2013, the site has been producing quality news content and seeking new ways to present it. Reports by Khaosod English have been cited by international news agencies such as The New York Times, The Guardian, Telegraph, Los Angeles Times, Russia Today, Japan Times, BBC and CNN.
Editor Ruiz said his goal is to set Khaosod English apart from other competitors in the market – new media and old.
"Frankly, other news organizations seem to have given up," he said. "Rather than do pay-to-play journalism rewritten from a press release, our approach to news gathering is traditional. Online, we've got an obscene wealth of content that other outfits lack."
Khaosod English is open for business, he added, and looks forward to developing relationships and partnerships that also serve to create value for its readers.
"Not only does Khaosod English set themselves apart, they succeed at it. They produce content that people like, while utilizing all the online tools they have at their disposal." Kanyanant Vimonchandra, head of marketing at Microsoft Thailand said at today's event. "While other news outlets try to sum up issues or stories on the national level, I can see that Khaosod English digs down to present news on the community level."
Khaosod English hasn't just been gaining respect – It's being read, watched, clicked and shared more and more. Its monthly Total Reach recently hit a new high of a combined 6.4 million people in the country and abroad via KhaosodEnglish.com, Facebook, Twitter and YouTube. People have spent over 2,000 hours watching our videos on YouTube, and our videos have been watched 2.8 million times on Facebook.
Khaosod English consists of an eight-strong team which snagged an Honorable Mention at the SOPA 2016 Awards for Editorial Excellence while breaking stories and informing the world about Thailand — 0.96 percent of the world's population — to the other 99.04 percent.
When a bomb attack hit the Thai capital in 2015, Khaosod English led with consistent and thorough coverage. In addition to breaking stories, it prides itself on setting the record straight, from erroneous reports about Disneyland Laos, Facebook's fake bomb scare and misrepresentations of crime stats.
On another level, Khaosod English provides extensive coverage on social issues facing Thailand's communities, such as its people with disabilities and members of its LGBT community.
When it comes to parsing the culture, old and new, the Khaosod English team provides smart, interesting coverage. The soap opera that offended Myanmar's royal descendants? Dead tiger cubs at a supposed wildlife temple? Naga sightings and the historical significance of black magic? Those were all Khaosod English stories. Toilet snakes, too.
They're also fans of fun. More than hard news, Khaosod English keeps a close eye on the fascinating things happening in Thailand online. Their arts and lifestyle writers keep readers informed about entertainment and events while offering hard-hitting analysis of modern art and pop culture. They also make sense of the latest social trends, from headbanging bird stickers to social media sensations such as Pim Thai Mai Dai.
"We're bringing 20th century journalism excellence into a 21st century space by always looking for cool new ways to present content," Ruiz said.
The evidence is in Khaosod English's growing portfolio of content only possible in the digital medium, including 360-degree virtual reality, interactive storytelling, live-streaming, live blogging, interactive mapping, timelining and before-and-after comparisons.
Launched in 2013, Khaosod English is owned by Khaosod, a daily newspaper with national circulation and now the most-visited website in Thailand. Khaosod English is operated by an independent editorial team committed to serving its readers by upholding rigorous standards and stringent tenets of journalism.
Khaosod and Khaosod English are publications of Matichon Publishing Group, which also circulates Matichon Daily and Prachachat Business.