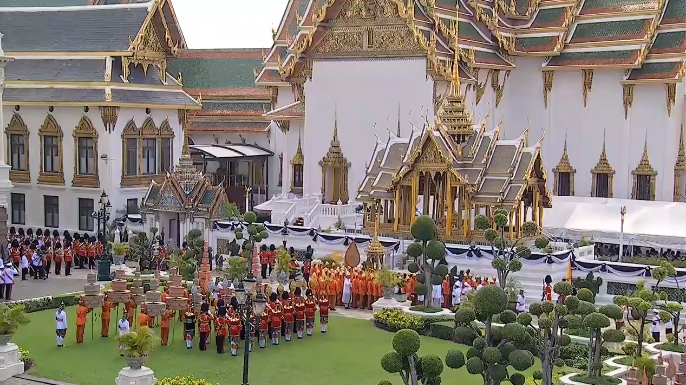 BANGKOK — The yearlong mourning period and elaborate five-day funeral rites for Thailand's king of seven decades officially end Sunday when his relics and ashes are enshrined in the royal palace and two temples.
At the ceremony at Bangkok's Grand Palace, broadcast live nationwide and led by new King Maha Vajiralongkorn, King Bhumibol Adulyadej's relics were escorted to Chakri Maha Prasad Throne Hall, where he used to host dinners, receptions and receive the credentials of foreign ambassadors. There, the golden urn of Rama IX — as the king of the Chakri dynasty in known — will be interned in the Heavenly Abode, joining the relics of kings Rama IV, V, VI, VII and VIII.
Later Sunday, in the final act of the funeral ceremony, the king's ashes will be transferred in the palanquin made of golden teak from the Temple of the Emerald Buddha to two royal temples, Wat Rajabophit and Wat Bovoranives.
Bhumibol had stayed at Bovoranives during his 15-day ordination in 1956. It's the center for the Theravada Buddhist Dhammayutika order, established by Rama IV with the emphasis on discipline and monastic practices.
The king was cremated on Thursday following his death Oct. 13, 2016, at age 88. His passing sparked a national outpouring of grief for a monarch who was regarded by many Thais as a father figure. Yet it also ushered in a sense of uncertainty for Thais who had grown used to Bhumibol serving as a unifying presence in a country regularly beset by political upheaval.
Starting Monday, the black-and-white cloth that has adorned buildings for a year must be taken down as the mourning period ends, the prime minister's office was quoted as saying. It encouraged the public to continue to dress in subdued colors, the Bangkok Post reported.