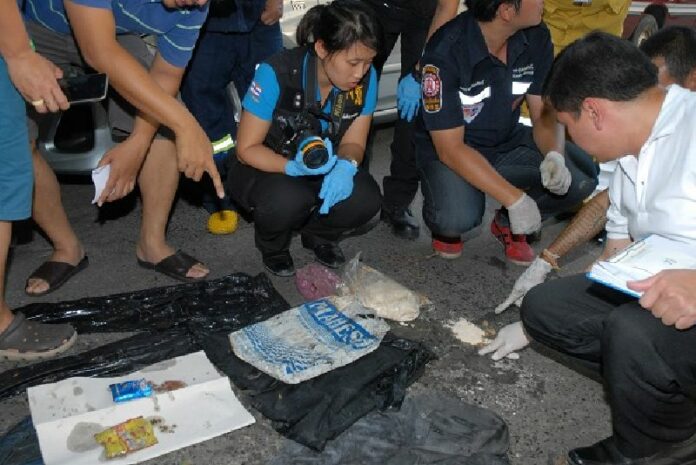 BANGKOK — A man discovered floating in a Bangkok canal died of a drug overdose when the meth packets in his stomach burst, forensic police said yesterday.
Although police have yet to identify the body found Sunday, they found about 800 grams of ice, a powerful type of methamphetamine, in 58 packets in its stomach. Director of Institute of Forensic Medicine Pornchai Sutheerakhun said the man died from an overdose.
Police are uncertain as to the deceased man's nationality.
"We never said he is not Thai," Pornchai said. "But this type of 'body packing' technique is mostly used by foreigners."
As to the wounds originally thought caused by stabbing, Pornchai said they were likely caused by postmortem animal bites. The man was believed dead at least three days when he was found floating in a black bag stuck to a waste filter in Khlong Ong Ang near Bangkok's Wat Saket.
Police said they will continue investigating the case, which they believe could be linked to transnational drug trafficking.
Dozens of wrapped packets found inside a dead body discovered Sunday in a bag floating in a canal in Bangkok. Photo: Matichon
Related stories:
Dead Body Found Floating in Bangkok Canal
Man Found Dead in Khlong Lat Phrao
Street Man Beaten to Death, Dumped in Canal by Drunks
Spanish National Identified as Dismembered Man
Police Puzzled After Body Parts Fished Out of Chao Phraya