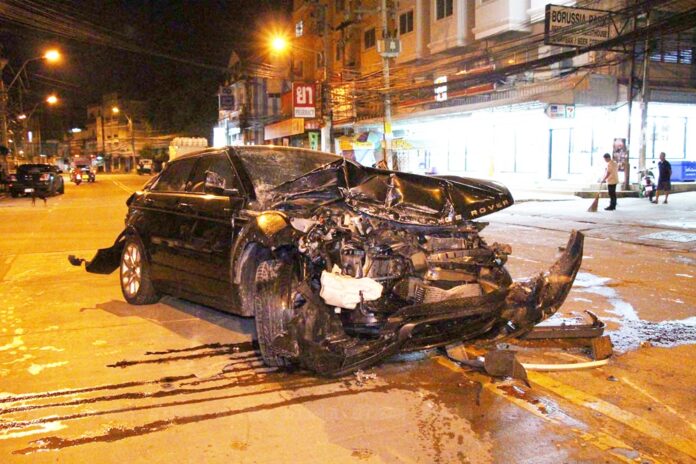 CHONBURI — Police said they're looking for a man who crashed his Land Rover into the back of a truck on Pattaya-Naklua Road early Thursday morning and fled the scene soon after.
A witness said the man, who looked to be heavily intoxicated, got into another motorist's car before police arrived on the scene, but a policeman in charge of the investigation said he's not treating it incident as a case of hit-and-run yet.
"Whether this is a case of hit-and-run, we need to question witnesses first," Sitthawat Chawakornthienrat, deputy inspector of Bang Lamung Police Station, said Thursday afternoon.
He said reporters should not give too much publicity to the incident.
"The media should not publicize this news yet," Cpt. Sitthawat said. "Sometimes the press' coverage of criminal cases has negative effects."
Eyewitnesses said the Land Rover was zooming down Pattaya-Naklua Road at high speed at about 5am and slammed into a parked truck in front of Pla Thong Seafood restaurant. The impact was so severe that the vehicle skid 200 meters before coming to a halt. The car's license plate is กน 8118 Bangkok.
Suthat Sithong, 42, said he was having a meal on a roadside restaurant when the crash took place, and he rushed to help the driver. Suthat described the driver as a slim, "Chinese-looking" Thai man in his early 20s who looked to be drunk.
Another car, a Toyota with license plate กธ 8899 Chonburi, stopped at the scene, picked up the Land Rover driver and sped away from the scene, Suthat said.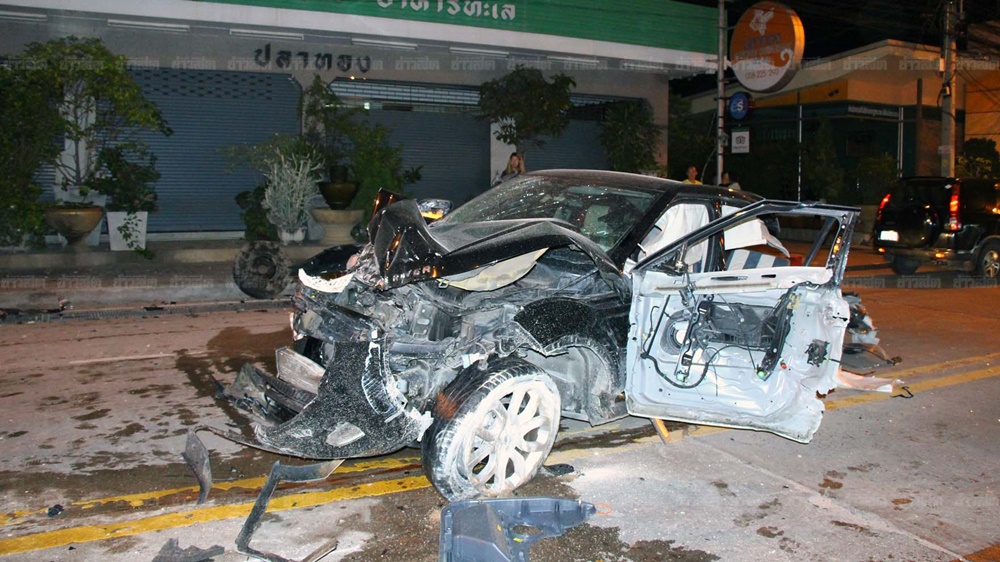 Fleeing the scene of a car accident is illegal under section 78 of Thai traffic law, which carries a maximum penalty of three months in prison.
No one was injured in the incident, police captain Sitthawat said adding that the driver could currently be seeking medical treatment somewhere.
"Maybe he was taken to hospital. We haven't found him yet. Probably he will show up soon," Sitthawat said.
He added that police are checking the license plate to ascertain who owned the vehicle and who was driving it at the time of accident.