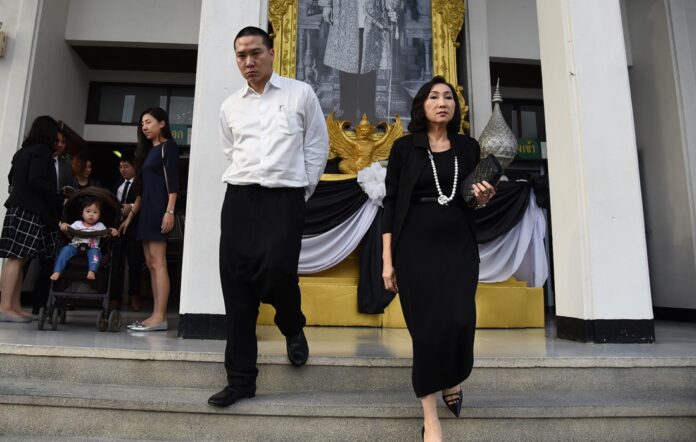 AYUTTHAYA — Legal troubles are piling up for millionaire Jenphop Viraporn, who on top of a vehicular manslaughter trial for killing two graduate students eight months ago, now faces a civil suit for refusing to pay damages for the car he wrecked.
A lawyer for the one of the victim's families Tuesday threatened the suit after Jenphop reneged on paying the compensation he'd promised for the Ford which went up in flames after he slammed into it on March 13, killing Krissana Thaworn and classmate Thantapat Horsaengchai inside.
Read: Surprising Court, Jenphop Withdraws Insanity Defense
He offered a much lower sum in court Monday when he pled guilty to one charge – fatal reckless driving – but contested the more serious counts against him, such as fatal DUI.
Attorney Prinya Sanitchone said the change was made by Jenphop's new lawyer after the defendant told the judges he fired the previous over an unspecified disagreement.
"The former lawyer told the court his client was willing to pay the amount the car owner requested, which was 300,000 baht," Prinya said. "But the new lawyer said the client will only pay 50,000 baht. So the court told us to file a civil lawsuit."
Prinya said Jenphop's plea of not guilty was entirely expected, but he and others were surprised by his refusal to pay for the car.
"I think it's too much of a disgrace," the lawyer said, "the judges also laughed when they heard this."
The car belonged to Kamonrat Wongkiatkachorn, who had been dating Krissana for years. Krissana, 32, was driving to submit his final thesis at his university campus in Ayutthaya province when Jenphop's Mercedes-Benz rear-ended him at speed of more than 200kph. Thantapat, 34, was reportedly hitching a ride in the car to apply for a pilgrimage to India.
Prinya said he will also represent Kamonrat in the civil case, but no date has been set yet.
Jenphop is charged with refusing a sobriety test, which under the law automatically leads to another offense, driving under the influence of drugs or alcohol. He also faces charges of fatal reckless driving, driving over the speed limit and resisting law enforcement officers.
Jenphop's next court appearance is Dec. 2, when lawyers from both sides will review the evidence and witnesses to be examined in the trial. Prinya said he estimates a verdict by May.
Related stories:
Top Cop Apologizes for Delay in Jenphop Case