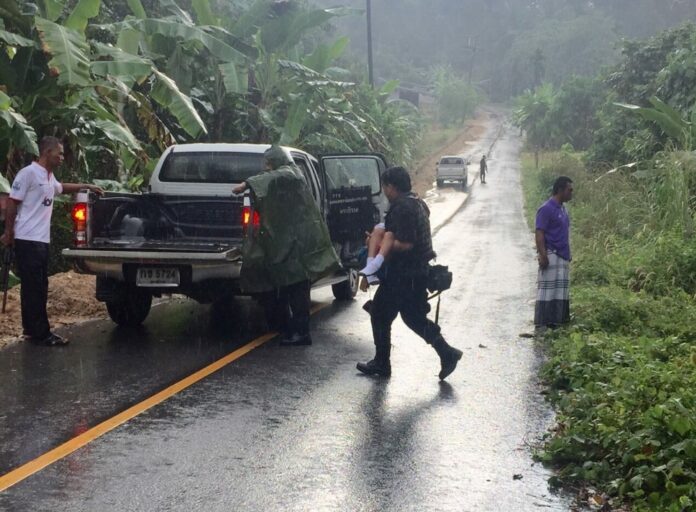 NARATHIWAT — A local official, his wife, sister-in-law and 8-year-old son were shot to death by unidentified assailants on their way to work Thursday, police said. The attack also wounded two students who were riding to elementary school in their pickup truck.
Police said the roadside ambush took place at about 7:20am in the Rueso district of Narathiwat, one of the border provinces where separatists have been battling security forces for 13 years. A police officer said it's too early to pinpoint the culprits.
"We have not established any motive yet," Sakhon Promchote, deputy chief of Rueso Police Station, said Thursday.
Read: Prayuth Upbeat on Peace Talks After Insurgent Leader's Death
Lt. Col. Sakhon named the victims as Somchai Thongchan, 47; his wife Rattika Daduang, 40; his sister-in-law Son Thongchan, 40; and his son Thanakit Thongchan, 8.
Somchai, who served as deputy village chief, was traveling with his family to meet other local officials. He brought his son along to drop off at school, police said. He also picked up two girls, 6 and 12, enrolled at the same school.
The two girls survived with minor injuries, Sakhon said.
Local insurgents often target security forces and what they viewed as agents of the state, such as bureaucrats and school teachers.
On Feb. 10, a subdistrict chief in Pattani province was on his way to work in a pickup truck when a group of men in another vehicle gunned him down.
At least 6,800 people have died since secessionist violence broke out in the southern border region in early 2004.