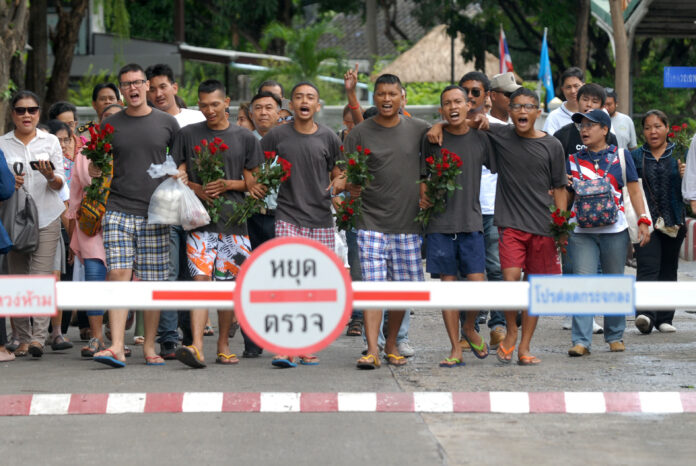 Update: Korakot was granted bail Wednesday afternoon on the condition he does not participate in politically oriented activities.
BANGKOK — One of the seven pro-democracy activists set to be released from prison Wednesday was prevented from leaving at the last minute because police had a months-old warrant for his arrest.
Many of Korakot Saengyenpan's fellow activists expressed shock, as they thought the warrant for the 24-year-old's had been quietly dropped as in the course of his numerous public appearances as an activist, police never attempted to arrest him
Korakot was one of seven activists to spend 12 days inside Bangkok Remand Prison for campaigning against the junta's charter draft, all of whom were set free by a military tribunal Tuesday to await trial for violating the referendum law and ban on protests.
On Wednesday morning they left the prison without Korakot, aka Por, to the surprise of supporters waiting outside.
"I was so shocked that I burst out crying right there," activist Chanoknan Ruamsap said by telephone. "I thought they would all be freed. We were waiting by the gate. Then we saw only six men walking out … and the first thing [activist Rangsiman] Rome did once he got out was to look at me, with a very sad face, and he told me, Por was detained."
A bail hearing for Korakot was scheduled to take place Wednesday afternoon.
According to Krisadang Nutcharus, the lawyer representing Korakot, police told him that his client is named in an outstanding warrant for activism last year related to alleged corruption in a royal monument project called Rajabhakti Park.
Junta spokesman Piyapong Klinpan said the prolonged detention of Korakot was in accordance with law, and denied that his political activism played any part.
"This has nothing to do with his campaign for the charter referendum. It's an old issue," Col. Piyapong said. "It was police who requested that he be detained, because he has an old outstanding case. This is normal police procedure."
He also insisted that the regime didn't interfere with the police investigation.
The warrant was issued in February for Korakot and four other activists, yet since then police never made any attempt to arrest them, even though they often organized protests in full view of police officers, according to other people facing the same charge.
"I just knew today that the arrest warrant against me still exists," 25-year-old Chanoknan said.
Police are taking Korakot to the military court, where they will ask the tribunal to remand him for another 12 days, citing a need to interrogate him while in custody, Krisadang said.
For the activists, the re-arrest of Korakot underscored the uneven application of the law. They said the threat of arrest has been held over them before, only to have it never come to pass.
Activist Chonticha Jaeng-rew said officers told her last year she would be taken into custody for a sit-in she staged on the anniversary of the May 2014 coup.
"I suspect they eventually decided against it because there were many protests at the time, and they wanted to calm the situation," she said. "This is time, it's different."
She added the other activists are now trying to find out how many arrest warrants they face.
"Everyone in our circle is now confused, like, are we wanted by the authorities?" she said with a laugh.
Related stories:
Jailed Activists Describe Life in Prison
A 'Toy Protest' Has Broken Out. We Spoke to the Woman Who Came Up With It.