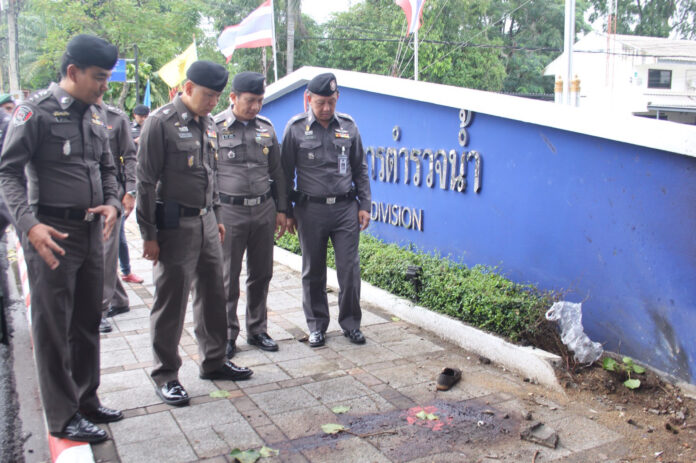 BANGKOK — Police offered a 200,000 baht reward for anyone with information about the perpetrators of a deadly bombing and arson spree over the Mother's Day holiday.
The bounty came as police struggle to identify those behind the nine bomb attacks that killed four people over the course of Thursday and Friday in five provinces, though one suspect in one of several related arson attacks has been arrested.
"I've been told that the Seventh Region Police command has set up 200,000 baht reward for anyone who has information that benefits our investigation," Police Gen. Pongsapat Pongcharoen said Sunday.
Read: Mother's Day Bombings: Arrest on Oil Rig, Unknown Number Detained by Junta
Pongsapat, who is heading up the investigation into the bomb attacks, said the bounty would be paid even if the bombers aren't arrested.
No group has claimed responsibility so far.
Apart from the nine small bombings, five buildings across five provinces were also torched or firebombed in an apparent coordinated attack. Police say a Chiang Mai native, Sakarin Karuehat, 32, is being held at a military facility for allegedly leaving an incendiary device at one of the targets, a Tesco Lotus supermarket in Nakhon Si Thammarat province.
According to Pongsapat, security footage captured Sakarin walk into the supermarket with a bag and later walk out without it.
"In this case, investigators have clear information about where and how the action was committed before we collected all the evidence, which includes … CCTV footage," Pongsapat said. "And then we submitted it to the court, and the court approved the arrest warrant."
The police general also said he believe the rest of the culprits are still in the country and have not ruled out any motives.
The Mother's Day attacks were the worst terror attack since a bomb struck Bangkok's Erawan Shrine nearly a year ago. The Aug. 17, 2015, bombing killed 20 people, mostly foreign tourists. Two ethnic Uighur men are standing trial in military court for their alleged roles in the attack.
In the days after that bombing, police offered a 3 million baht bounty for those with information leading to arrests. After a suspect was arrested soon thereafter, police ended up giving the reward to themselves, saying it was their own work that led to the arrest.
Related stories:
Redshirts Reject Link to Bombings, Hit Back At Prayuth
Condemning Attacks, Amnesty Calls on Govt to Take the High Road
Prayuth Links 'Bad People' Behind Bombs to Referendum, Calls For Patience
Mother's Day Bombings: Authorities Move to Secure Targeted Cities
Mother's Day Attacks: Bombs Hit 5 Thai Provinces, Killing 4
One Killed, At Least 12 Injured in Hua Hin Explosions