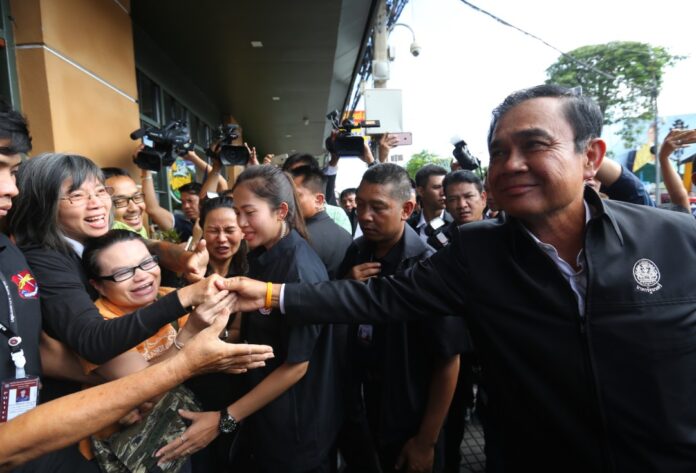 BANGKOK — The junta on Monday released an infographic summarizing how it would bring about reconciliation and unity to the country.
Billed as a social contract with the public to achieve reforms of everything from justice to the media, the 10 items have been promoted by the military regime as the way to lead Thailand out of a cycle of political conflict and social grievances.
A government spokesman described it as a "a voluntary agreement between the nation and its people, with each citizen to decipher their own role in moving the Kingdom forward," according to state media.
Read: Politicos Dismiss Regime's 10-Point 'Social Contract'
Upon seizing power in May 2014, the coup makers said they would implement reforms before democratic rule is restored. Various agencies and committees have been set up to attempt this task, while the opposition has denounced it as insincere.
The 10-point contract was first presented in July. The infographic released today, in which cartoon characters – almost entirely male – illustrate the list.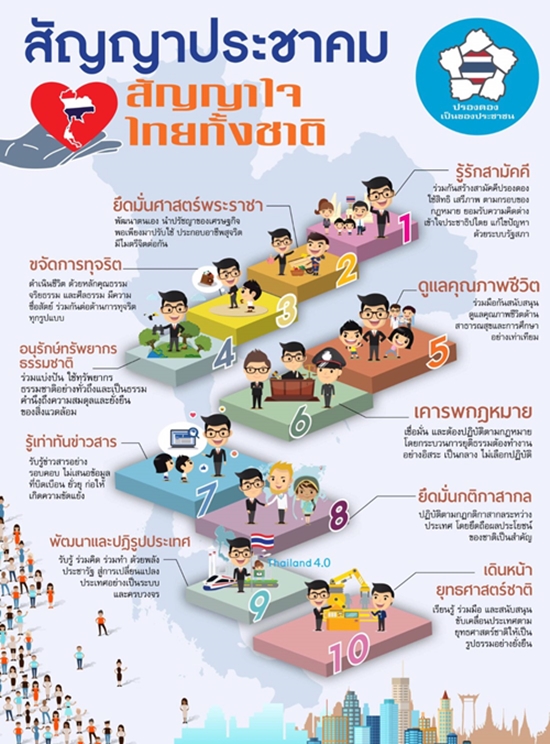 The state-run National News Bureau has translated the 10-point contract as follows:
1. Know Unity; contribute to reconciliation and exercise freedoms within the scope of the law, understand democracy and the parliamentary system
2. Adhere to Royal Teachings; adopt the Sufficiency Economy Philosophy towards self betterment
3. Eradicate Corruption; live morally, ethically and honestly, take part in combating all forms of graft
4. Conserve Nature; equally and justly distribute natural resources with a mind towards balance and sustainability
5. Care of Life Quality; take part in public health and encourage equal access to education
6. Respect the Law; believe and adhere to the law, maintaining an impartial justice system
7. Stay Informed; in-take news and information from all sides, avoid distorted information
8. Adhere to International Regulations; seek to satisfy international rules with consideration to the nation's interests
9. Take part in Reform; think and know about civil-state power and seek change
10. Drive Forward the National Strategy; join in and support national progress in line with the national strategy