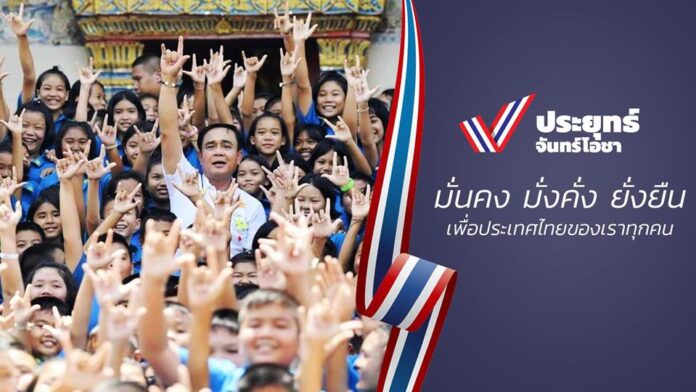 BANGKOK — Gen. Prayuth Chan-ocha is now officially on Facebook, Twitter and Instagram, a junta deputy secretary said Sunday.
Prayuth's Deputy Secretary-General Puttipong Punnakan said the accounts are directly overseen by the junta leader.
"The prime minister wants to connect to citizens in a simple, relaxed way that's not too stressful," he said. "He wants to communicate with citizens up-close without issuing statements that are too formal, but wants to show that he cares."
The social media blasts are what critics consider yet another form of campaigning for elections slated for Feb. 24. In the past few months, he's visited various provinces, chatted with people on the BTS, exercised in Lumpini Park, met with AKB48 girl group, posted slogans used by Thaksin Shinawatra – and on Friday even told a Tokyo audience to stand up and stretch.
Though parties aren't allowed to campaign for the elections until mid-December, some have criticized the government for allowing pro-junta politicians – who are reportedly convincing MPs to join the pro-junta Palang Pracharat party – off the hook. Just last week, three of Prayuth's ministers joined the pro-junta party.
Read: Rivals Left Fuming as Serving Ministers Join Pro-Junta Party
Puttipong said social media posts would be only once or twice a week.
"The page will publicize his work and more relaxed sides and lifestyle that people may not have seen before," Puttipong said.
Although Prayuth did open a Facebook page in August 2017, posts in his new page will be written by himself. The page is also linked to an Instagram and Twitter page and a website. The first post on the new Prayut Chan-o-cha Facebook page came Sunday night.
"Since most of us communicate through Facebook regularly, I decided to open my personal account to communicate my policies and the government's work, as well as give helpful information," it reads. "If you have suggestions, want to exchange opinions or need me to fix any problems, you can write to me here."
The page, which by Monday had garnered more than 47,000 likes, shows a photo of Prayuth holding an "I Love You" sign with a crowd of children, along with a logo of a checkmark in Thai flag colors.
"Prayuth Chan-ocha. Stable, prosperous, enduring for our Thailand," reads the accompanying slogan.
Prayuth's official website is the sleekly-designed PrayutChan-o-cha.com. There's an interactive timeline feature about the general's life, galleries of Prayuth stock photos and even a poll about what policies people would like to see enacted.
The English version of the website is under construction.
His official Instagram and Twitter accounts are also set up.
"Hello to my beloved citizens on the Twitterverse. You can tweet to me and exchange opinions about social problems. I also have a website at prayutchan-o-cha.com so click to see it when you have time," His first tweet read Monday morning.
"Please stay for a long time, Uncle Tuu," Facebook user Pimchanok Pornsukjantra wrote on his page, referring to his nickname. "I promise to be a good student, and to grow up to be a good citizen who doesn't cheat others."
Of course, social media is a double-edged sword, and though some posted words of encouragement, there was also scathing criticism.
"Don't cheat on the elections. If you're going to take advantage of other parties this much, why don't you just make yourself the winner? If you're going to be shameless, go all the way and make your mark in Thai history," Facebook user Akgnit Peacharat wrote on Prayuth's Facebook post.
Related stories:
Thais React as Prayuth Tells Tokyo Forum to Stretch 'Japanese Style'
Prayuth Exercises With Park Goers, Denies Campaigning
For First Time, Prayuth Confirms 'Interest' in Politics
Army Borrows Thaksin Slogan to Promote Prayuth
Prayuth Goes Full Otaku in Meeting With Japan's AKB48
Thailand's Politicians Will Have About 2 Months to Campaign. Will They Be Ready?
Watching Prayuth and 'Three Friends' Campaign No Fun for Others