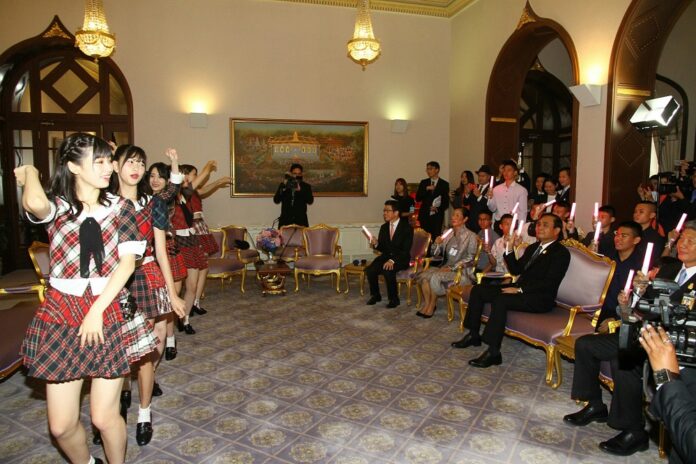 BANGKOK — Junta chairman Prayuth Chan-ocha welcomed members of Japanese girl group AKB48 to the regime's seat of power today in the latest effort to rebrand himself as a relatable, mainstream leader.
While the prime minister has surrounded himself with celebrities and pop culture icons in the past, Prayuth took it to another level at Thursday's meeting, teasing intimate fan knowledge and taking them on a tour of his office.
"Come on, do the cheer!" a glow stick-waving Prayuth said to the dozen Thai fans allowed in to observe. "Onigiri! Onigiri!" the fans obliged, chanting to the song he had requested, "Fortune Cookie." Prayuth looked on with a smile.
Prayuth's meeting with the Japanese idols came a week after he announced that a number of celebrities, including members of AKB48's Bangkok chapter, would host government TV shows touting his regime's policies.
That was met with anger from some pro-democracy activists who accuse the celebs of collaborating with an unelected regime. Cherprang Areekul, the Thai frontwoman of BNK48, came under particularly harsh criticism for legitimizing the junta.
Read: Junta Defends BNK48 Frontwoman's Appearance on Gov't Show
Prayuth, who Tuesday spoke out in the group's defense, doubled down on the association.
"Please help take care of your sister group here in Thailand," Prayuth told the six AKB48 singers via an interpreter.
Government officials said the Japanese group happened to be visiting Bangkok to film a show for Workpoint TV channel and asked to meet with the prime minister.
"The government didn't pay anything. We paid all the travel expense ourselves," Workpoint host Krit Sripoomsethsaid said, adding that "this is not about politics."
But the optics were unmistakable for Prayuth, a longtime army man who seized power over four years ago and has sought to soften his image. The 64-year-old retired general has been behaving more like a civilian politician in the run-up to elections slated for February, after which he seems intent on remaining in power. He's declined to make clear his intentions.
The Japanese group inspires a zealous following throughout much of Asia, if not the world. Thursday's meeting presented a rare opportunity for the dozen fans allowed to observe.
"This the weirdest thing I ever saw in my life," Anyamanee Mangmee, a fourth-year Thammasat student, said after the encounter.
Anyamanee was among the fans selected to attend the meeting in the same gilded reception room reserved for prominent dignitaries.
More than watch, fans were also allowed to line up for photos with the AKB48 idols at the building's ornate staircase.
"I have never imagined this day would come," said Kunakorn Angkoonlertbaramee, a Matthayom 6 student, who has been following the group for a year now. "In my mind, they were so out of reach."
Related stories: